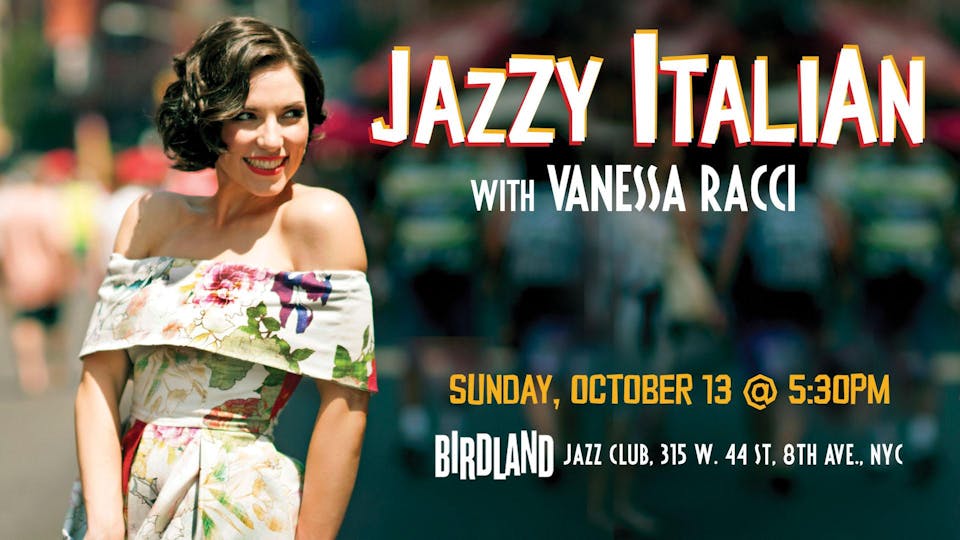 Doors open at 4:30pm - Seating is First Come First Serve for Table and BAR
Vanessa Racci
Birdland Jazz Club
Birdland is proud to welcome Vanessa Racci to the stage!
The 1950s through the '70s were a golden age of Italian-American male crooners—Vic Damone, Dean Martin, Al Martino, Jimmy Roselli, Sergio Franchi, Jerry Vale—who honored the Italian popular song, with all its lush melody and openhearted sentiment. But for Vanessa Racci, who grew up in a Neopolitan-descended, Italian-American family in Thornwood, New York, the queen of that repertoire was Connie Francis. "She was always my idol. She has a cry in her voice that is characteristic of Neopolitan singers; you can feel the emotion and the authenticity."
The same can be said of Vanessa's voice—a sweet-and-sour, impeccably musical contralto that throbs with feeling. Vanessa has spent years singing pop-jazz standards; she also earned a coveted Helen Hayes Award for her portrayal of Christine in a New York-area production of Phantom of the Opera. But on this, her first album, she delves into the Italian songs of her childhood—the ones she heard each day blasting from her family's basement apartment, where her beloved grandfather lived. He died in 2016 at age 102. This album, she says, is "a memory of him. It's something I want to pass down to future generations of my family. I worry that these songs are not trickling down."
Part of the problem, she says, is that "a lot of them are dated in their message and style. I wanted to revive them in ways that modernized them." The mandolin-strumming sound of the originals is gone; instead, she and her producer, the renowned jazz bassist David Finck, have combined the songs with jazz. Some settings have a modern big-band feel, with tight ensemble horn work and a swinging rhythm section. There are fiery Afro-Cuban touches; while on a few tracks, a string section adds drama and romance. In one case, Vanessa is accompanied solely by Glafkos Kontemeniotis, one of this project's two remarkable pianist-arrangers. The other, Yaron Gershovsky, has been serving for years as musical director for the Manhattan Transfer.