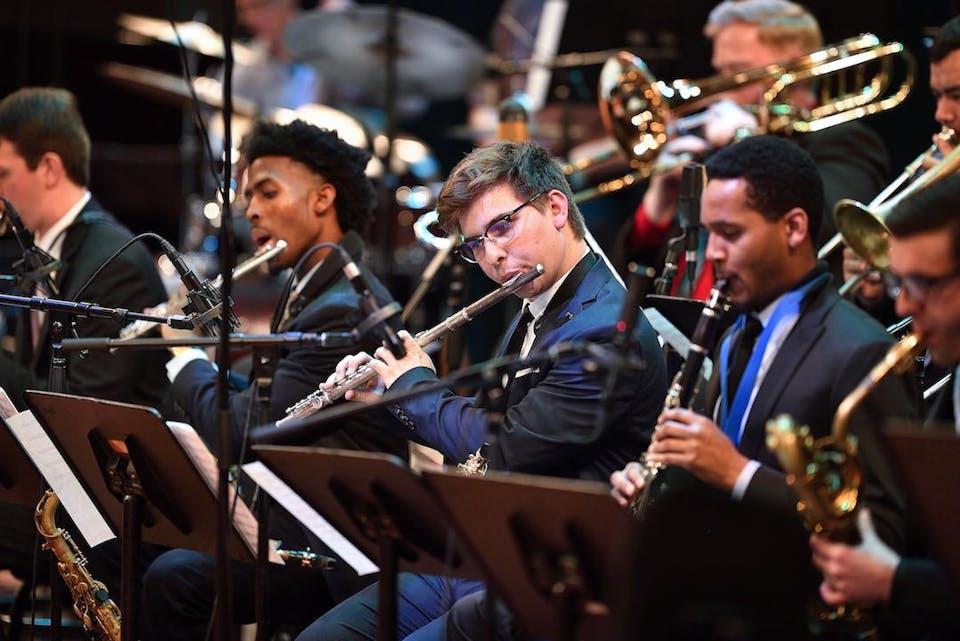 The University of North Texas One O'Clock Lab Band
Birdland Jazz Club
$20.00 - $30.00
Tickets At The Door
Join us at Birdland for the University of North Texas' premier jazz ensemble, the One O'Clock Lab Band!
The One O'Clock Lab Band, under the direction of Alan Baylock, is the premier performing ensemble of the internationally acclaimed University of North Texas jazz studies program. With an unprecedented seven Grammy Award® nominations (one or more per decade and under every director since the 70s: Lab '75, Lab '76, Lab '89, Lab '91, Lab 2009, Lab 2015) from the library of over eighty critically acclaimed recordings to date, the One O'Clock Lab Band is noted for exceptional individual musicianship and tight ensemble performance. Concerts feature the wealth of compositions and arrangements from the UNT jazz library written by current and former North Texas students, by director Alan Baylock, by Grammynominated composers Neil Slater, Steve Wiest, and Rich DeRosa (jazz composition faculty), the Stan Kenton, MaynardFerguson, and Bob and Darlene Curnow Jazz Libraries (all housed exclusively at North Texas), in addition to library classics and the finest contemporary writers in jazz.The One O'Clock Lab Band has toured internationally with great success over the decades, performing in Russia, Mexico, Switzerland, England, France, The Netherlands, Australia, Portugal, Finland, Norway, Canada, Italy, Germany, Japan, Hong Kong, Poland, Ireland, and Thailand, where the band performed for the King of Thailand and His Majesty chose to "sit in" with the band. The band has toured the major jazz festivals including Monterey, Cork/Guinness, Montreux (first college band to do so), Vienne, North Sea, Spoleto, Pori and Umbria. In 2010 the band attended the 52nd Grammy Awards while touring in California. The One O'Clock has performed by Presidential invitation at the White House, joined on stage by Duke Ellington and Stan Getz. The band frequently appears at major jazz venues such as Birdland (NYC), Blues Alley (DC), Catalina's (LA), and as the headliner at jazz festivals, music conferences, and concerts hosted by numerous fine arts series, colleges and high schools across the United States and around the world.
Alumni of the North Texas jazz program are virtually everywhere in the professional music industry as performing artists and jazz educators. The list of significant names runs the gamut from Jimmy Giuffre, Herb Ellis, William Lee III, Bob Dorough, Larry Austin, and Jack Petersen, to Dee Barton, Bob "Doc" Morgan, Marvin Stamm, Ed Soph, Billy Harper, Dan Haerle, Bruce Fowler, Gary Grant, Jay Saunders, Dean Parks, Bill Collins, Chuck Schmidt, John Von Ohlen, Bill Stapleton, Randy Lee, Jim Clark, Fred Sturm, Jim Riggs, Lou Marini, David Hungate, and Tom "Bones" Malone; from Lyle Mays, Marc Johnson, Steve Houghton, Pete Brewer, John Riley, Mike Steinel, Joe Eckert, Rodney Booth, Bev Dahlke-Smith, Pat Coil, Dennis Irwin, Gary Willis, Clay Jenkins, Dan Higgins, John Murphy, Bob Belden, Dan Fornero, Conrad Herwig, Jim Snidero, Greg Bissonette, and Matt Bissonette, to Craig Handy, Ray Brinker, Steve Turre, Doug Lawrence, Mick Goodrick, Chuck Owen, John Wasson, Chip McNeil, Steve Owen, Mike Drake, Doug Snapp, Frank Hames, Gerald Stockton, Brad Dutz, Tony Scherr, Tim Ries, Charlie Gray, Mike Williams, Steve Wiest, Frank Greene, Ray Herrmann, Steve Williams, Eddie Clark, Mike Bogle, Brad Leali, Shelley Carrol, Glenn Kostur, Randy Hamm, David Pietro, Earl Harvin, Rob Smith, Pete McCann, Jim Riley, Craig Johnson, Matt Ingman, Stefan Karlsson, Bret Zvacek, Scott Whitfield, and Joe Jackson; from Chris McGuire, Jeff Coffin, Jeff Antoniuk, Tim Ishii, Karolyn Kafer, Brad Turner, Vern Sielert, Scott Harrell, Scott Belck, Jami Dauber, Luis Hernandez, Will Campbell, Alan Baylock, Craig Marshall, Tom Brantley, Jeff Martin, Ben Patterson, Aric Schneller, John Walasko, Pat Dixon, John Cisar, Michael Bravin, Steve Snyder, Norm Bergeron, Keith Carlock, Jim White, Mike Pope, Art Hays, Henry Hey, John Congleton, Ari Hoenig, Scott Englebright, Jon Button, Damon Criswell, Steve Cotter, Rich Redmond, Brad Shermock, Alison Wedding, Rosana Eckert, and Norah Jones, to Pete DeSiena, Tim Miller, Adolfo Acosta, Scott Wilson, James Ford, Curtis Stephan, Steve Haines, Tyler Summers, Steffen Kuehn, Matt Thompson, Stockton Helbing, Chad Eby, Pat Shook, Stephen Anderson, Frank Basile, McKenzie Smith, Kerry Marsh, Paul Tynan, David Lown, Aaron Lington, Marcus Wolfe, David Winslow, Tom Luer, Aden Bubeck, Craig Pilo, Phil Magallanes, Jason Levi, Kait Dunton, Daniel Foose, Dave Richards, Ross Pederson, Sara Jacovino, Evan Weiss, Hildegunn Gjedrem, James Blackwell, Dan West, Josh Brown, Ryan Davidson, Michael D'Angelo, Michael League, Chris Bullock, Mike Maher, Justin Stanton, Bob Lanzetti, Chris Mc Queen, Nate Werth, Jay Jennings, Clay Pritchard, Ashleigh Smith, Erskine Hawkins, Chad Willis, Dan Foster, Tyler Mire, Sylvester Onyejiaka, Luke Brimhall, Brian Clancy, Devin Eddleman, Adam Hutcheson, Mark DeHertogh, Dustin Mollick, Kevin Hicks, Pete Clagett, Scott Kruser, Jacob Smith, Colin Campbell, Scott Kruser, Matt Jefferson, Carl Lundgren, Sean Casey, Duran Ritz, Addison Frei, Matt Young, Young Heo, Jenny Kellogg, Stuart Mack, Alex Hahn, Kaela Sinclair, Aaron Hedenstrom, Toshi Clinch, Zach Steele, Connor Kent, Katrina Cain, Howi Dietz, Brandon Moore, Brian Horton, John Sturino, Drew Zaremba, Kyle Myers, and Colleen Clark.An ongoing tradition at North Texas is to bring major jazz figures to campus to perform and interact with students. This is achieved through four means – the Annual Fall Concert (since 1959), the Jazz Lecture Series (since 1982), the Gomez International Artist Endowment residency (since 1995), and the various instrumental clubs organized by UNT students. The list of legendary jazz artists (performers, composers, and scholars) who have shared their music and experience with North Texas students and faculty is formidable. Bringing this wealth of information to Denton is a key element in the success of the North Texas jazz program.