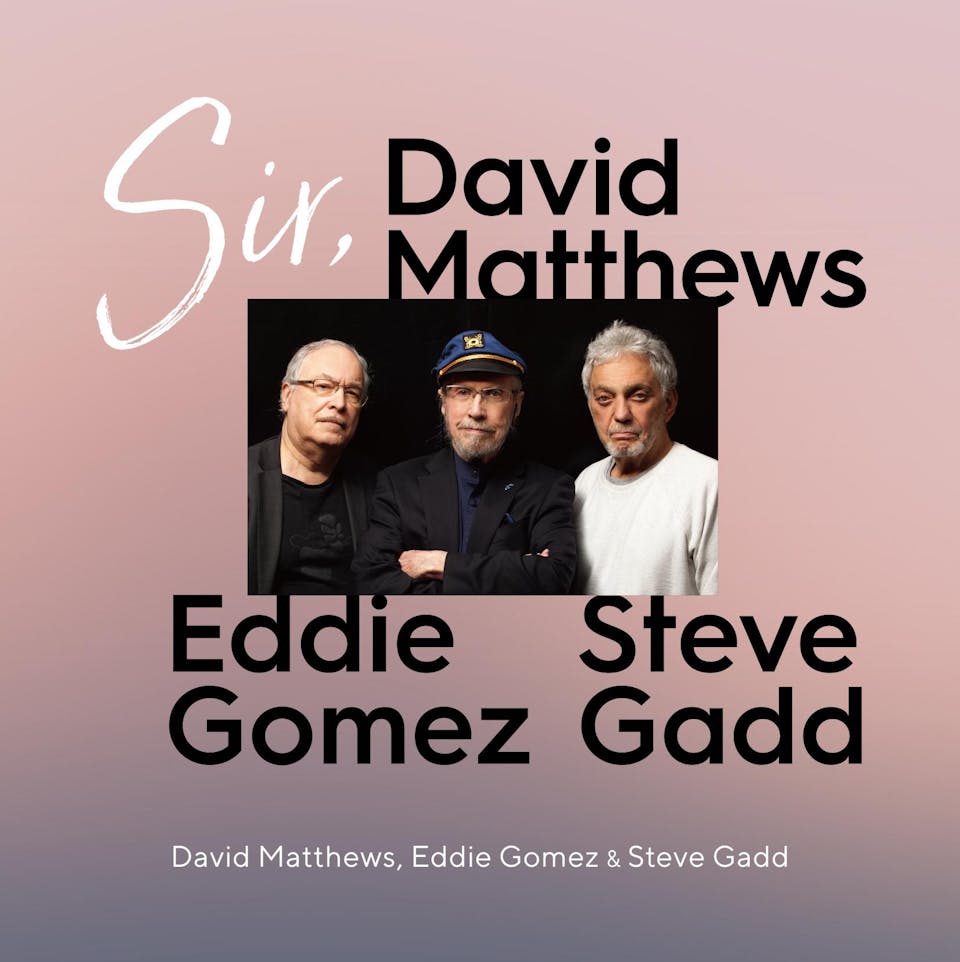 Seating is first come first serve
The David Matthews Trio with Eddie Gomez and Steve Gadd
Birdland Jazz Club
$30.00 - $40.00
Tickets At The Door
Join us Tuesday August 13th through Saturday August 17th for The David Matthews Trio with Eddie Gomez and Steve Gadd!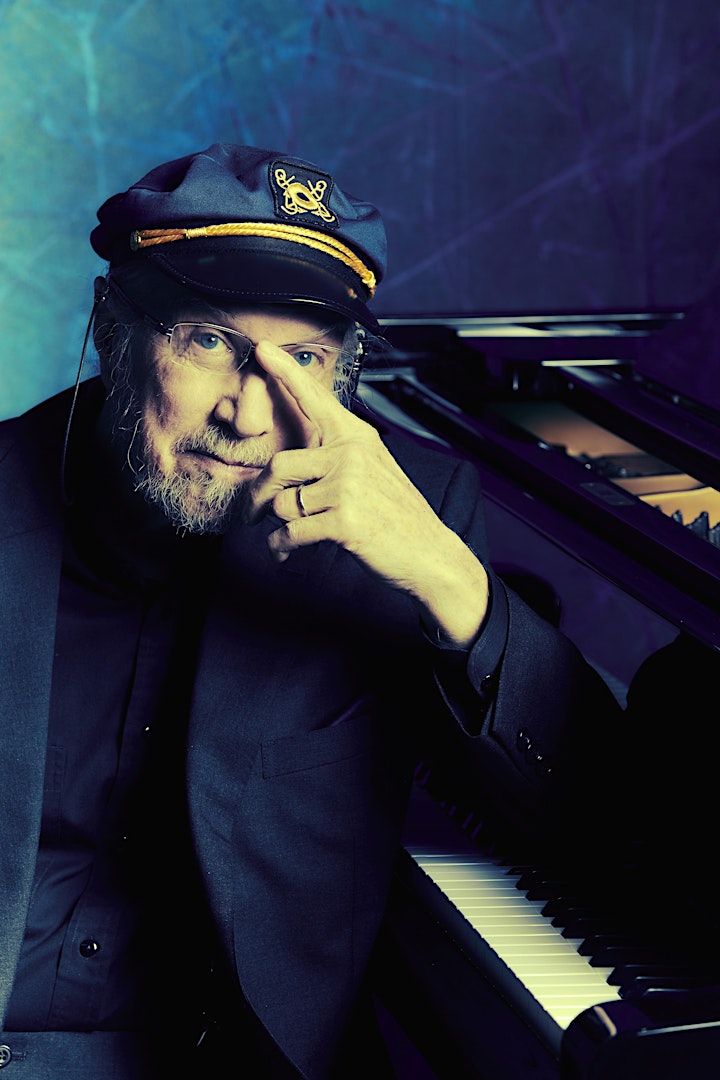 David Matthews, the son of a Methodist minister, was born in Sonora, Kentucky on March 4, 1942. He was educated at the University of Cincinnati where he received a Bachelor of Music degree in Composition from its' Conservatory of Music.
From l966-68, David led a jazz/dance band on tour in Germany and Italy. During the next two years he played in jazz clubs in and around Cincinnati.
From l970 to 75 he was the arranger and bandleader for James Brown Productions.
In l971, David moved to New York where he worked steadily as a free-lance arranger and writer. He worked on albums, singles, radio and TV commercials and film scores. He arranged or composed albums or tracks for Buddy Rich, Mark Murphy, Bonnie Raitt, T Bone Walker, Blue Mitchell, the J.B.'s, Starland Vocal Band, Stephanie Mills, Earl Klugh, Phoebe Snow, Donald Bird, Crystal Gayle, Frank Sinatra, David Sanborn and Paul Simon.
From l975 - 78 David was the staff arranger for CTI Records writing, arranging and producing records for stars such as Nina Simone, Hank Crawford, Art Farmer, Joe Farrell, Ron Carter, Idris Muhammad, Jim Hall and George Benson.
David has arranged and composed radio and TV commercials for Sunoco, Texaco, Magna Vox, Champale, Welches, Mary Quant, Ford, NBC "Proud as a Peacock", "Reach Out" for A T & T, Sheraton, 7UP, Avon, McDonald's, Oldsmobile, Burger King, Nabisco, Clearisil and Life Savers. His commercial for 3m Tape won a Clio Award in 1975.
Matthews composed the scores for William Greaves great film "The Fight" featuring Mohammad Ali and Joe Frazier, "Stony Island" produced and directed by Andrew Davis and "Bedtime Eyes" a Japanese film in which he not only wrote the music, but performed with his group, Manhattan Jazz Quintet. He orchestrated film scores for "Parallax View", "The Stepford Wives", "Night Moves" and "Washington D.C., A City Out of Wilderness".
In 1975, Paul Simon's "Still Crazy After All These Years", arranged by David, won a Grammy Award. Also, that year, The Starland Vocal Band's 'Afternoon Delight, arranged by David, won a Grammy. In 1976, among the songs composed by David for George Benson 's album "Good King Bad", "Theme from Good King Bad" won the Grammy Award for Best Rhythm & Blues Instrumental Performance".
From l979 to 1989 David was an artist, producer and writer for King Record of Japan. He is the leader of what since l984 has been Japan's number one jazz group, "Manhattan Jazz Quintet". In Japan, the group (popularly known as the "new MJQ") has won "Swing Journal's Golden Hit Award an unheard of 4 times David was the musical director for the Simon and Garfunkel Reunion Concert in Central Park. He also arranged the Radio City Memorial Concert for John Lennon by the Cincinnati Pops Orchestra, Julian Lennon's debut Album "Valotte", Robert Plant's "The Honeydrippers, Volume I", Paul McCartny's "Angry", Frank Sinatra's, "L.A. is my Lady" and Billy Joel's "An Innocent Man" followed by Billy's hit singles "Easy Money" and "Second Wind". He was also happy to arrange "Why Should I Worry" for Walt Disney Studio's animated film "Oliver".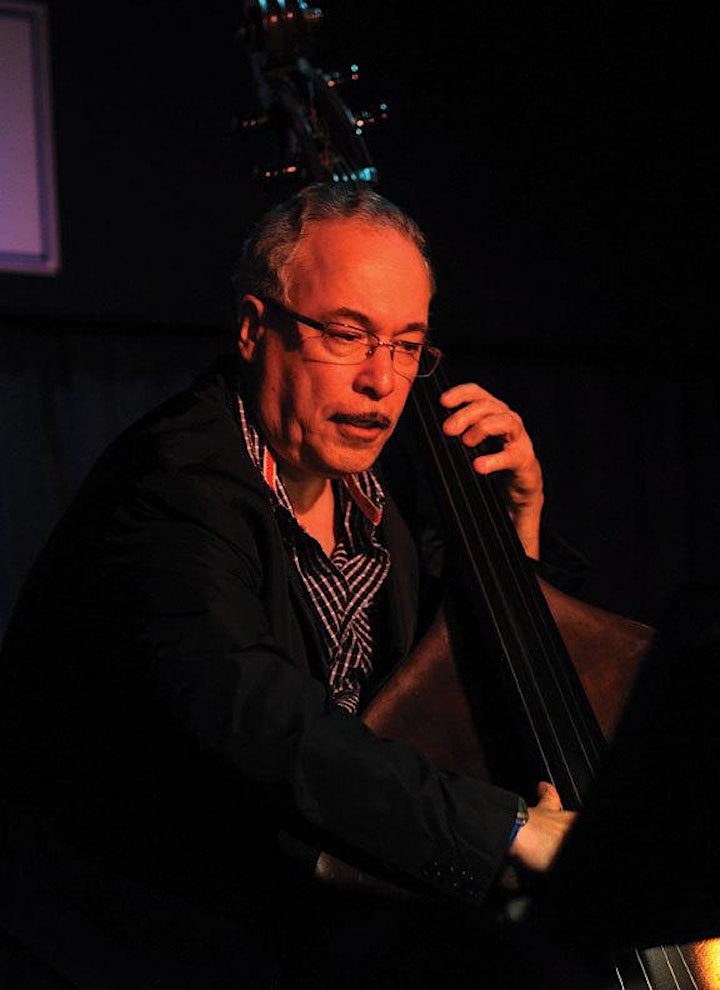 EDDIE GOMEZ (Bassist)
Legendary bassist and two-time Grammy Award winner EDIE GOMEZ has been on the cutting edge of music for over four decades. His impressive resume includes performance with jazz giants such as Miles Davis, Dizzy Gillespie, Bill Evans, Gerry Mulligan and Benny Goodman. Eddie's unique sound and style can be heard on many Grammy winning records as well as on hundreds of recordings spanning the worlds of jazz, classical, Latin jazz, rhythm & blues, popular and contemporary music.
Born in 1944 in Santurce, Puerto Rico, Eddie moved to New York City with his family at early age. His love of music led him to the double bass as a precocious 11year old student in the public school system. Two years later he was accepted to the High School of Music and Art and soon began private studies with the great double bass teacher Fred Zimmerman. During these years, he performed with many preformed with many professional dance bands and was a member f the Newport Youth band led by Marshall Brown. By 18, he had performed with such jazz luminaries as Buck Clayton, Lionel Hampton, Marian McPartland and Paul Bley.
Eddie continued his studies at the Juilliard School of Music, where his contemporaries included Chick Corea, Hubert Laws, James Levine, Paula Robinson and Gary Karr. By the end of his third year of school, he dreamed of a career as a performing jazz musician. Later that summer he joined with Gary McFarland and soon after the Gerry Mulligan Quintet.
In the spring of 1966, both Mulligan's group (with Eddie on bass) and the Bill Evans Trio performed for a week at the famed Village Vanguard. That week at the Vanguard changed Eddie life forever. When Bill Evans heard the young phenom, he practically hired him on the spot. Bill called a few weeks later and Eddie's dream had been realized. At age 21, he was the bassist with the Bill Evans Trio and rose quickly to fame. TIME magazine declared in its review of the trio's first recording, "Eddie Gomez has the world on his strings".
Joining the Bill Evans trio was a turning point in Eddie's career. He had arrived in a big way and the jazz community took notice. For 11 years, Eddie played an integral role in the Bill Evans Trio's sound and evolution. This period of vast artistic growth with Bill Evans included performances throughout the United States, Europe, South America, and Asia, as well as dozens of recordings two of which won Grammy Awards. During this time, Eddie also realized another dream performing on many occasions with the great Miles Davis, in the Davis Quintet that also featured Wayne Shorter, Herbie Hancock and Tony Williams.
In 1977, Eddie left the Evans Trio to explore new musical territory. For the next decade, he performed in many diverse musical contexts, working with Dizzy Gillespie, Freddie Hubbard, George Benson, McCoy Tyner, Hank Jones, Nancy Wilson Tanya Maria, the All Star groups "Steps Ahead" and "New Directions" and many others, as well as on Grammy winning recordings with Chick Corea.
In the classical music world, Eddie has been a guest artist with The Koronos Quartet, Tashi Ensemble, Japanese marimbist Mika Stoltzman and clarinetist Richard Stoltzman. His recordings with Stoltzman have include "Begin Sweet World" and most recently "The Goldberg Variations" and other pieces by Johann Sebastian Bach. At Carnegie Recital Hall, Eddie premiered a musical piece written specifically for him by William Thomas Mckinley.
In popular music, Eddie has performed and recorded with artists such as Bobby Darin, Tim Hardin, Carly Simon, Art Garfunkel, Mark Knoffler, Michael Franks, Judy Collins and Jennifer Holiday. He has also been a member of "The Gadd Gang," Steve Gadd's All Star R&B, Jazz Band.
Today, Eddie tours and records with his own group which he formed in 1992 with pianist Stefan Karlsson and legendary drummer Jimmy Cobb. The group's recordings include "Live in Japan", "Dedication" and "Uptown Music." He composes for his own projects as well as for film and television most notably for the prize-winning William Steig animation, "The Amazing Bone".
Eddie's recent recording "Duets", co-led with Carlos Franzetti on piano, won Best Instrumental Album at the 10th Annual Latin GRANMMY Awards. His recordings as a leader include "Next Future", "Outlaws", "Live in Moscow", "Street Smart", "Power Play", "Discovery", "Gomez", "Down Stretch", "What's new at F", " Palermo" and "Trio", The recording feature guest artists including Michael Brecker, Richard Tee, Randy Brecker, Al Foster, Steve Gadd, Chic Corea, Jeremy Steig, Jack McDuff and John Abercrombie. His recordings co-led with pianist Mark Kramer include "Entropy", "Fiddler on the Roof" and "Art of the Heart".
In 2006, his DVD "An Evening with Eddie Gomez" was released with Eddie and Mark Kramer performing and lecturing on the intricacies and dynamics of improvisation.
A sought after educator, Eddie is Artistic Director at the Conservatory of Music of Puerto Rico where he has been professor and artist in residence since 2005. He's a resident artist at Berklee Collage of Music, and also has been artist in residence and associate professor of jazz double bass at the Oberlin Conservatory of Music. He's taught, and conducted master classes at many universities across the country including Stanford, North Texas State, Georgia State and Jacksonville. In Europe, he has been artist in residence at the Conservatory of Music in Siena, Italy, The Conservatorio Liceu in Barcelona, Spain, the Conservatorie de la Musique et la Danse in Paris, France, and the Royal Academy of Music in London, England.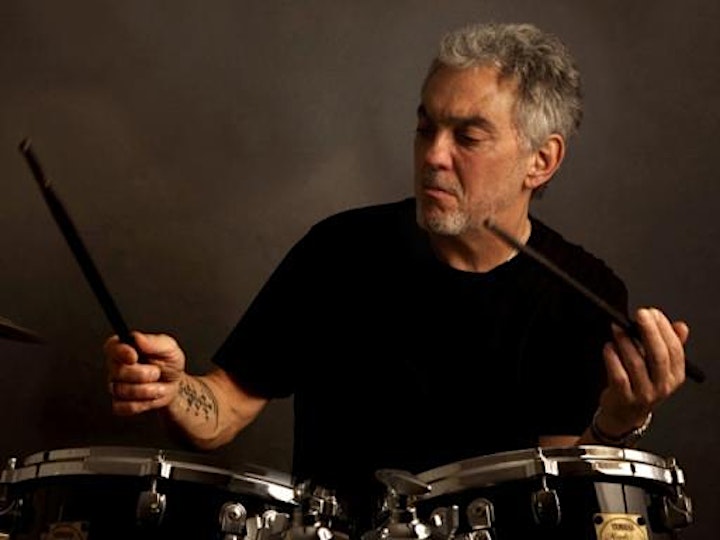 STEVE GADD (Drummer)
One of the most influential drummers of all time, Steve Gadd set a new standard in contemporary drumming techniques and performance, and in doing so launched a thousand imitators. Recording so many legendary drum tracks like, "Aja", "Fifty Ways to Leave Your Lover" and "Nite Sprite", there is no drummer alive today who in some way has not been effected by Steve Gadd. His influence is still very much felt and can be heard in the playing of everyone from Vinnie Colaiuta to Carter Beauford. And still to this day there is no one who can get "inside" a tune and find the "pocket" quite like the great Steve Gadd.
Steve's Uncle, a drummer in the army, encouraged him to take drum lessons at the age of seven, by the time Steve was 11 he had sat in with Dizzy Gillespie. Studied music at Eastman College, Rochester, Playing in wind ensemble and concert band, and at nights in a club with Chick Corea, Chuck Mangione, Joe Romano and Frank Pullara. After college, drafted into army and spent three years in a military band. After the army, gigged and worked with a big band in Rochester. 1972, formed a trio with Tony Levin and Mike Holmes, going to New York with it. The trio fizzled out, but Gadd began to work extensively as a studio musician. Healso played with Corea's first Return to Forever. 1970's and 1980's, toured internationally, recorded with Paul Simon and with Al DiMeola's Electric Rendezvous Band.
By the end of the 1970's Gadd was the most in-demand and probably the most imitated drummer in the world. In japan transcriptions of his solos were on sale, and all the leading Japanese drummers were sounding like him. Chick Corea commented, "Every drummer wants to play like Gadd because he plays perfect… He has brought orchestral and compositional thinking to the drum kit while at the same time having a great imagination and great ability to swing".
After graduating from Eastman, Steve was drafted into the Army. While carrying out his three-year tour of duty, Steve ended up playing drums in the military band. After leaving the Army, Steve began gigging with a big band in the Rochester area and in 1972, formed a trio with Tony Levin and Mike Holmes. It was after relocating to New York City that Steve became one of the most sought after studio musicians in town. It was as a studio musician that Steve came into his own and worked with such musicians as Chick Corea, Paul Simon, Donald Fagen and Walter Becker, Aretha Franklin, Carly Simon, Bob James, Nancy Wilson and Joe Cocker to name a few.
In the 70's and 80's , Steve Cut five albums with Chic Corea, several albums Al DiMeola including Al's Electric Rendezvous, and recorded and toured with Gato Barbieri, George Benson, Stanly Clarke, Steely Dan, Joe Cocker, Maynard Ferguson.
In 1976 Steve became a member of the group Stuff with Gordon Edwards, Richard Tee, Eric Gale, Cornell Dupree and Chris Parker, while continuing his heavy schedule of studio work. Towards the end of 70's, Steve had not only become one of the most in demand drummers, but
he had also become one of the most imitated, and revered drummers in the world. The 90's saw Steve become Eric Clapton's first call drummer, solidifying Steve's reputation as one of the most accomplished and skilled drummers of his generation.
Today Steve is just as busy as he ever was with one of the most intense recording and touring schedules in the business, spending time in the studio and on the road with Eric Clapton, James Taylor, and his own group; STEVE GADD BAND.
Steve's influence on the drumming community can be heard in players from all walks of life, whether they know it or not. His feel, imagination and abilities are the signatures of his trademark sound. Few others can manage to get inside a tune like Steve Gadd.