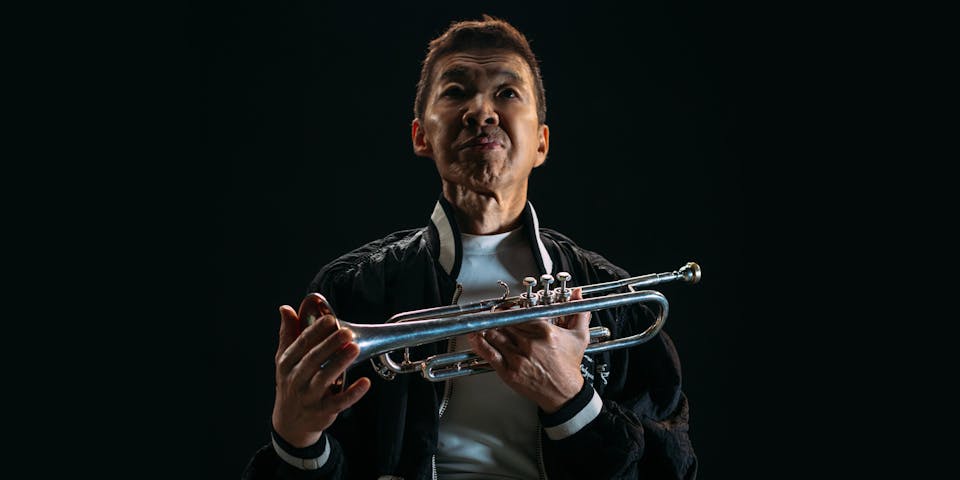 Shunzo Ohno "RUNNER" Album Release
Birdland Theater
Join us at the Birdland Theater for Trumpeter Shunzo Ohno! For this engagement he is debuting his new album "Runner"!
Shunzo Ohno, trumpet
Ira Coleman, bass
Gene Jackson, drums
David Berkman, piano
Sasha Ono, cello
Emily Frederick & Tiffany Weiss, Violin
Brianne Lugo, Viola
Award-winning trumpeter and composer. Known as one of the most innovative and influential trumpeters. His work with Gil Evans, Art Blakey and Wayne Shorter informs his fresh vibrance, distinctly Shunzo Ohno. His bold and melodious elements create a tapestry of soulful inspiring grooves, not to be missed.
HotHouse December 2019. 'Another Reason to Celebrate: Shunzo Ohno' https://www.hothousejazz.com/blog/shunzo-ohno
"[Shunzo Ohno]...plays tight, crisply phrased lines with a stabbing rhythmic effect. Without the mute, his open tone has a broad, ringing sound that soars through high-powered driving lines..."The New York Times
[DREAMER], breathtaking sweep of Shunzo Ohno's musician-ship, one of the most prodigiously gifted composers and trumpet- players to have roamed the world of Jazz. " Canada: DaGama Jazz
"Shunzo Ohno, a Jazz Hero" New York Times. "[Ohno's] music inspires hope in the hearts of all people."Italy: JAZU, Nico Conversano
Sasha Ono: Cello in New York City: https://www.youtube.com/watch?v=PpL0DBEjN_4
Ira Coleman: Ira has worked with such well-known figures as Cab Calloway, Freddie Hubbard, Betty Carter, Branford Marsalis, Herbie Hancock, Wayne Shorter, Jessye Norman and Sting. His work with Shunzo Ohno on live concerts as well as recordings.
Gene Jackson: Played with Herbie Hancock Headhunters, Dave Holland, Clark Terry and Calra Cook. Tours and teaches globally. Has been part of the Shunzo Ohno Collective live concert tours.
David Berkman: played with Tom Harrell, Brian Blade, Cecil McBee and author of The Jazz Singer's Guidebook" and "The Jazz Harmony Book". Performing with the Shunzo Ohno Collective live tours and recordings.
Sasha Ono: cellist, Mozart in the Jungle, Streetlight Manifesto, and numerous NYC venues ( Carnegie hall, Radio City Music Hall, Madison Sq Garden as well as internationally. Recorded on several jazz and classical albums including Shunzo Ohno's award winning albums.