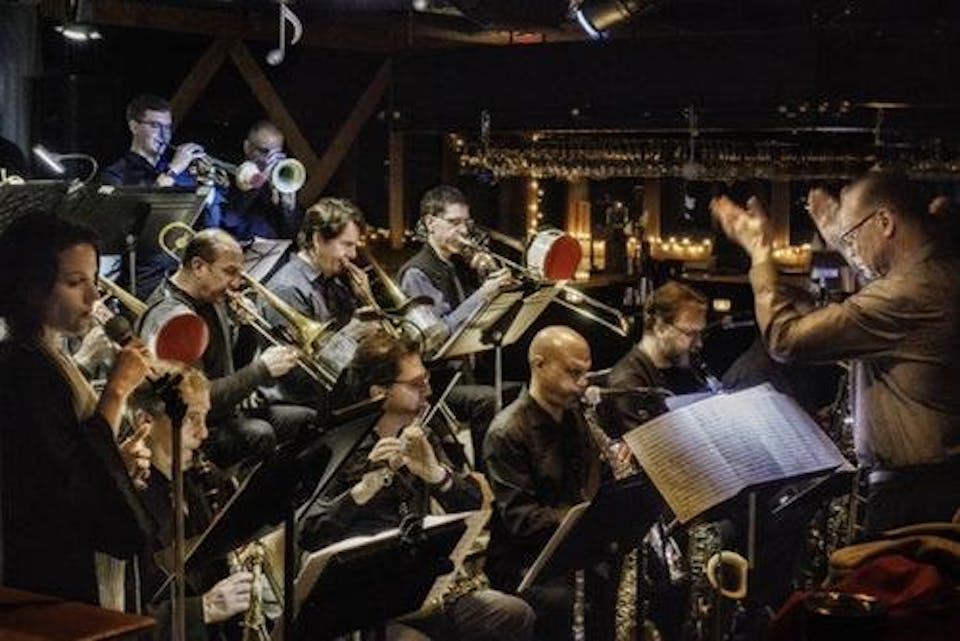 Scott Reeves
Birdland Jazz Club
$30.00
Tickets At The Door
Join us at Birdland as we welcome back the Scott Reeves Jazz Orchestra!
After years of writing commissions for big bands lead by Dave Liebman, Bill Mobley, the Westchester Jazz Orchestra, and groups in Rome and Osaka, Scott Reeves formed his own big band in 2008. Since then, his 18-piece ensemble has recorded two CDs on the Origin label - Portraits and Places, and most recently Without a Trace - and has performed at venues such as Dizzy's Club Coca Cola, Smalls Jazz Club, Trumpets, the Tea Lounge, and several universities.
A long-time full professor of music at The City College of New York and lecturer at the Juilliard School, as well as the author of two books on jazz improvisation, Scott has played trombone and alto flugelhorn with the Vanguard Orchestra, Dave Liebman, Chico O'Farrill's Afro-Cuban Jazz Orchestra, Oliver Lake's big band, and many others. The Scott Reeves Jazz Orchestra features top-call NYC players such as Steve Wilson, Jon Gordon, Tim Armacost, Seneca Black, Andy Gravish, Chris Rogers, Jim Ridl, Roberta Piket, Todd Coolman, Andy Watson, and vocalist Carolyn Leonhart.
Praise for the Scott Reeves Jazz Orchestra includes the following reviews:
Downbeat Magazine: "Reeves arrives at his sound – modern metric ideas, sweetly stacked harmonies that move in surprising directions, atypical musical alliances – by utilizing the full scope of his playing experience."
London Jazz News: "His new release, Without a Trace, contains originals and standards, colourfully orchestrated, with an intimate, club-like ambience. These pieces really are 'composed'…there is always a feeling of forward travel."
Jazz Times: "Scott Reeves Jazz Orchestra is a wonder…hot compositions…a sizzling band…an assemblage of brilliant artists…the music is exciting, even thrilling."
All About Jazz: "Reeves is a resourceful writer with…a keen ear for melody, harmony and counterpoint, his arrangements scrupulously burnished and invariably engaging."
Scott's CDs and arrangements may be purchased at www.creativejazz.com/albums with digital downloads available at Band Camp, Amazon, and iTunes.