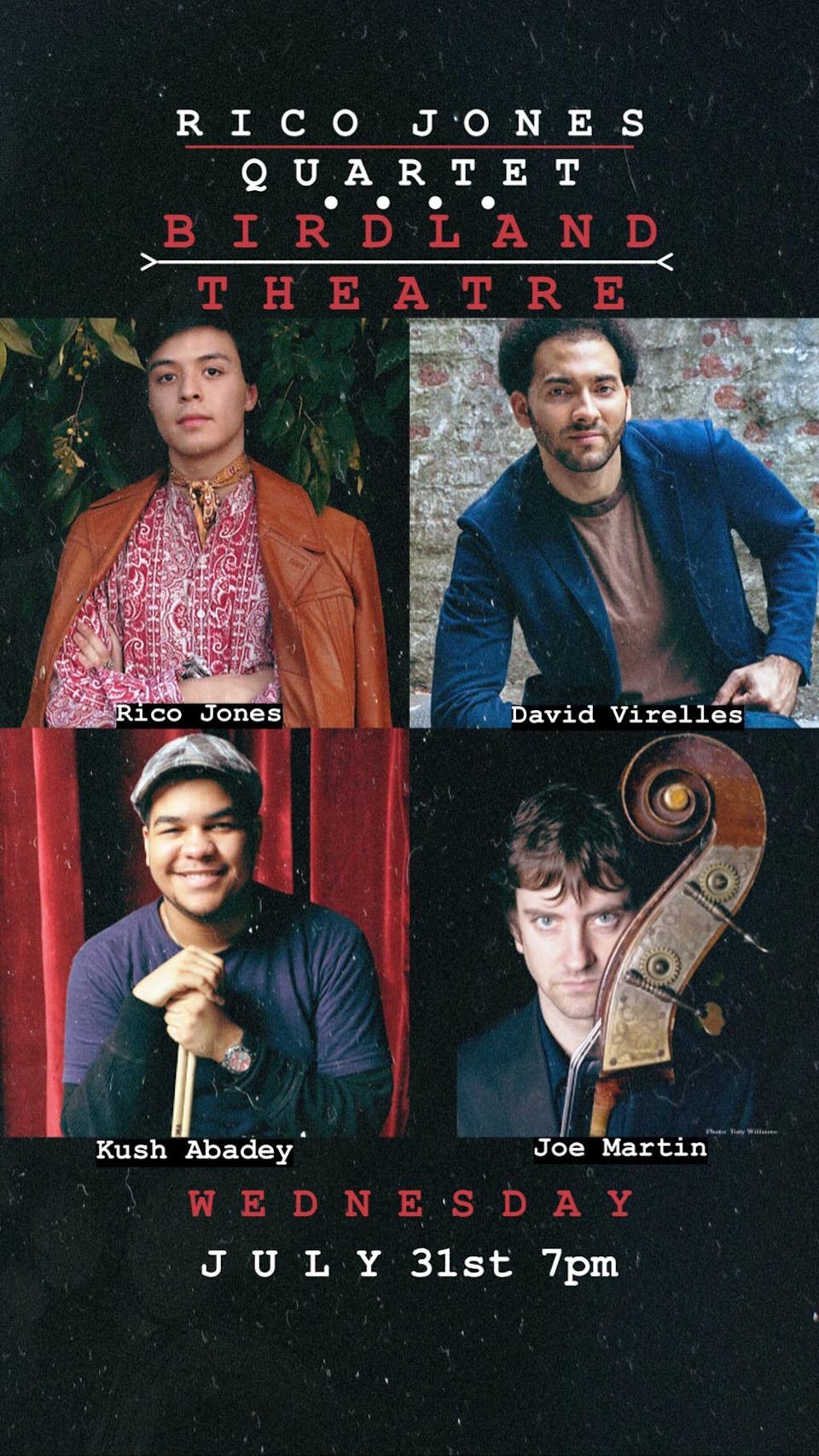 Doors open at 5:30pm - Seating is First Come First Serve
Rico Jones
David Virelles
Kush Abadey
Joe Martin
Birdland Theater
$20.00 - $30.00
Tickets At The Door
The Birdland Theater welcomes the Rico Jones Quartet to the stage! With David Virelles (Piano), Kush Abadey (Drums) and Joe Martin (Bass)
Rico Jones, a Colorado native, first picked up the alto saxophone at age 11 while in the fifth grade. By eighth grade Rico was playing with high school level ensembles. In the ensuing years he performed in the top ensemble at Colorado Conservatory for the Jazz Arts, competed in Swing Central Jazz Competition in Savannah, Georgia, and took part in the Telluride Jazz Festival all Star ensemble for five consecutive years. He later took part in the 2015 Grammy Band Jazz session workshop in L.A. He has Collaborated with notable artists such as Ari Hoenig, Lage Lund, Dave Kikoski, Colin Stranahan, Rick Rosato, Rich Perry, Art Lande, Steven Feifke, Adam Larson, Brad Goode, Greg Gisbert and Gabriel Mervine.
Rico has performed with artists such as Candido, Joe Lovano, Greg Osby, Benny Benack III, Bobby Sanabria, Javon Jackson, Donald Harrison, Howard Levy, Jeff Coffin, Ernie Watts, Hubert Laws, Jim McNeely, Terence Blanchard, Terell Stafford and, Earl Klugh.
Rico lives in New York City where he pursues an academic and professional career at the Manhattan School of Music. In 2016 he released his first album The Search: Live at Dazzle under the Synergy Music record label through the pathways to jazz grant. In 2019 Rico Jones was awarded 1st prize in the Vandoren Emerging Artist competition. He later premiered a new big band composition written for him by Todd Bashore at the Music For All festival with Jazz Band of America. Rico was also chosen in 2019 to take part in the prestigious Betty Carter Jazz Ahead program at the Kennedy Center.