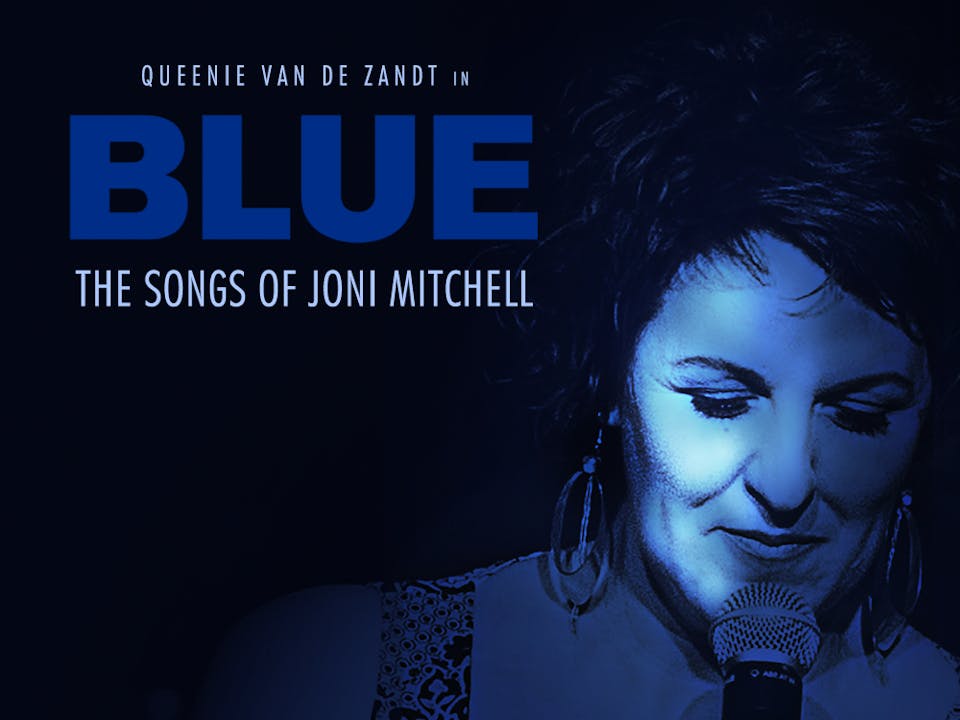 Queenie van de Zant "Blue: The Songs of Joni Mitchell"
Birdland Theater
Join us at the Birdland Theater for Queenie van de Zandt in Blue: The Songs of Joni Mitchell
Queenie van de Zandt
"BLUE: The Songs of Joni Mitchell"
Friday/Saturday, March 27/28 at 9:45pm
Birdland Theater
Birdland Theater is proud to announce that Australian cabaret and musical theater star Queenie van de Zandt, will perform "BLUE: The Songs of Joni Mitchell" on Friday and Saturday, March 27 and 28 at 9:45pm.
With rave reviews and sell-out performances at the cabaret festivals in Queensland and Melbourne, the Hayes Theatre in Sydney, plus two nominations for the Broadway Australia Sydney Awards, Australian cabaret chanteuse and musical theatre star Queenie van de Zandt—renowned for her artful storytelling and raw, emotive vocals—makes her Birdland and New York debut with the songs, anecdotes, and legendary artistry of Joni Mitchell. Renaissance woman, poet and painter, Mitchell gave the world the soundtrack for the Woodstock generation. Come explore the intricacies and intimacies of Mitchell's journey, revealing the stories behind some of her most haunting songs such as A Case of You, Both Sides Now, and Little Green.
Queenie van de Zandt is well-known for her incredible versatility as a performer having worked extensively in musical theatre, plays, cabaret, on television and film, and as a recording artist, comedienne and writer. She is probably best known for her extensive work in musical theatre and cabaret. Queenie has played leading roles in hit musicals such as: Funny Girl, Into the Woods, King Kong, Smoke & Mirrors, Oliver!, The Full Monty, Anything Goes, Cabaret, The Boy from Oz, Eureka – The Musical, I Love You, You're Perfect, Now Change, Hair, and Follies. In her early career she also performed in such classic musicals as Les Misérables and The Threepenny Opera. As a writer, Queenie has co-written two albums of original music: Amazon Woman and Other Stories and her subsequent one-woman cabaret show, Amazon Woman and Other Stories, performed at music and cabaret festivals and music venues all over Australia. Her two other critically acclaimed and award nominated cabaret shows, CABARET - In 12 Easy Steps and The Best (and Worst) of Queenie van de Zandt have toured to every major cabaret festival in Australia. In 2014 Queenie released Queenie van de Zandt - Live in Cabaret - a live recording of one of her cabaret performances and in 2017 Queenie performed her new show, BLUE: The Songs of Joni Mitchell, to sold-out houses in Brisbane, Sydney and Melbourne. The show was subsequently nominated for the Sydney Theatre Award, the Helpmann Award and won the Glug and Broadway World – Sydney Awards for Best Cabaret and Best Cabaret Performer. The show is touring around Australia and Internationally in 2018/19.
Queenie has been nominated for 18 major theatre awards for her work in musicals, theatre and cabaret, winning 6 times, including the 2008 Jeffry Joynton-Smith Memorial Glug Award for Best Supporting Actress in a Play, the 2008 AussieTheatre.com Award for Best Female Actor and the 1997 MEAA A.C.T. Green Room Award. The many awards she has been nominated for include: 2015, 2014, 2009, 2008 and 2005 Green Room Awards; 2009 - Glug Award for Best Actress; 2007- 2 AussieTheatre.com Awards; a 2006 - Sydney Theatre Award; and a 2004 - Helpmann Award.
Queenie van de Zandt
"BLUE: The Songs of Joni Mitchell"
Friday/Saturday, March 27/28 at 9:45pm
Birdland Theater, 315 West 44 Street, NYC
BirdlandJazz.com or 212-581-3080
$40 cover, $10 food/drink minimum per person