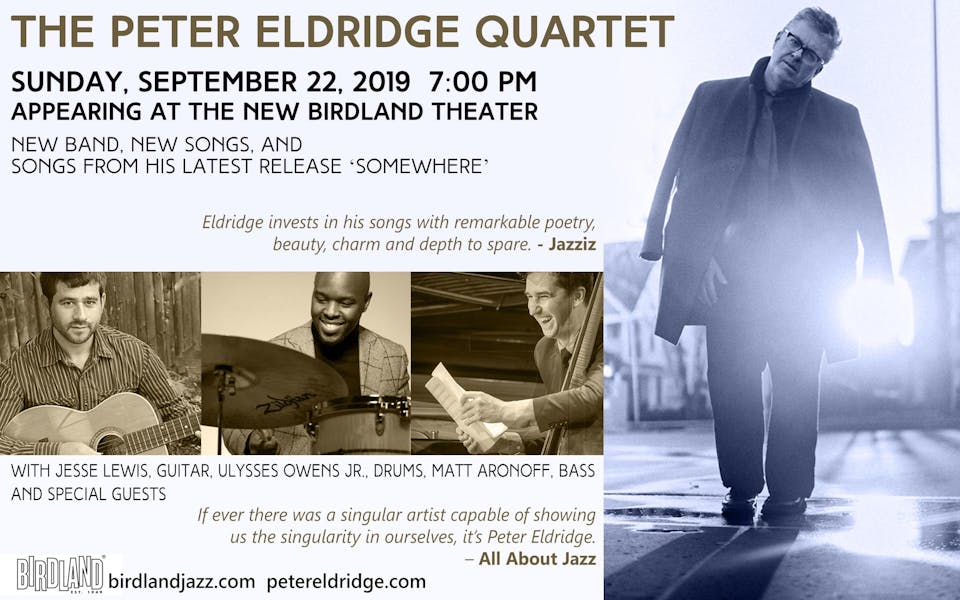 Seating is First Come First Serve for Table AND Bar
Peter Eldridge with Matt Aronoff, Jesse lewis, and Ulysses Owens Jr.
Birdland Theater
$20.00 - $30.00
Tickets At The Door
Join us at the Birdland Theater for Peter Eldridge!
For years Peter Eldridge has remained at the forefront of both the singer-songwriter and jazz realms as a vocalist, pianist, composer, and arranger. He has eight critically acclaimed albums, the most recent is Somewhere, released July, 2019, a collection of ballads with string orchestra and jazz trio, featuring pianist/arranger Kenny Werner and cellist/conductor Eugene Friesen. Peter's first two solo CDs were released in 2001 - Stranger in Town and Fool No More; followed by Decorum (2005); the Latin-inspired Mad Heaven 2011; New Definition and Foolish Hearts (2012); Disappearing Day, was released in July 2016 on Sunnyside Records and recognized as "an out and out masterpiece" by all about jazz. Disappearing Day made many 'best of the year' lists, including Downbeat, Jazziz, and NPR.
Moss is a vocal group which defies categorization, grown from friends wanting to investigate various forms of music with a modern sensibility, stepping outside of comfort zones and taking chances in arranging and composition. Their debut album (Moss) on Sunnyside was considered one of the best albums of the last decade by Downbeat who called it 'a hushed masterpiece'.
The diverse collection of souls in Moss consists of Kate McGarry, Luciana Souza (and now vocalist Jo Lawry), Lauren Kinhan, Theo Bleckmann and Peter Eldridge.
One of Peter's current projects includes his first full-fledged musical with the working title of 'The Woman in Question', co-written with Chicago playwright Cheryl Coons about the life, loves, and art of Austrian painter, Gustav Klimt.