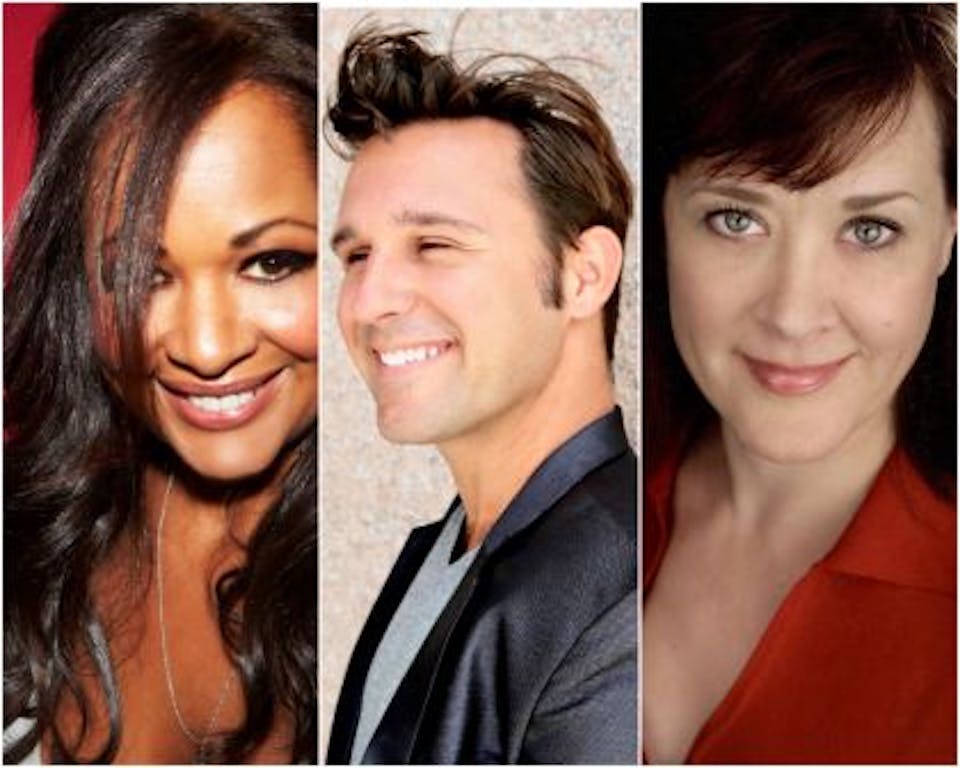 Doors open at 5:30 - Seating is first come first serve
New York: Big City Song Book with Special Guest Karrin Allyson!
Birdland Theater
$30.00 - $75.00
Tickets At The Door
"New York: Big City Songbook" Created by Deborah Grace Winer Featuring Karen Kiemba, LaTanya Hall and Nicolas King
"New York: Big City Songbook"
Created, scripted and hosted by Deborah Grace Winer
Featuring Karen Ziemba, LaTanya Hall and Nicolas King
Eric Comstock- Music Director
John Oddo – Arrangements
Directed by Mark Waldrop
Birdland Theater
Sunday, August 11 at 7:30pm
Birdland Theater is proud to announce that "New York: Big City Songbook," will be on the stage Sunday, August 11 at 7:30pm. The show stars Birdland favorites Karen Ziemba, LaTanya Hall and Nicolas King.
"A triumph" raves The New York Times. Why have so many songwriters been compelled to write about New York? What is it about this city that fuels an endless supply of stories? This show offers a kaleidoscopic vision of life in the city, from the inspiring and romantic to the aggravating and the quirky. New York is a fabulous character, and we have this great cast of real New Yorkers (meaning they come from everywhere) to take us on this entertaining and exhilarating musical ride in search of what it really means to be a New Yorker.
"New York: Big City Songbook"
Sunday, August 11 at 7:30pm
Birdland Theater, 315 West 44 Street, NYC
www.BirdlandJazz.com
$40 cover, $75 VIP cover (prime seating, backstage meet and greet), $10 food/drink minimum
Karrin Allyson, 5-time Grammy nominated jazz vocalist, pianist, and songwriter is widely recognized as one of the most gifted voices of her generation. She has built a mastery of The Great American Songbook, blues, pop, be-bop, Brazilian, and French chansons, to name a few. Allyson rose to prominence in the '90s, releasing a string of albums including her debut I Didn't Know About You in 1992 and picking up Best Jazz Vocal Album Grammy nominations for 2001's Ballads: Remembering John Coltrane, 2006's Footprints, 2007's Imagina: Songs of Brasil, 2011's 'Round Midnight, and 2015's Many a New Day: Karrin Allyson Sings Rodgers and Hammerstein. Born in Great Bend, Kansas, Allyson now lives in New York City, after growing up in Omaha, Nebraska and earning her bachelor's degree in Piano Performance from the University of Nebraska at Omaha. She spent time in both Kansas City and Minneapolis before making the move in 2000. Also an accomplished vocal instructor,
Allyson travels the world teaching, touring, and playing the major jazz festivals, concert venues, and clubs of the U.S. and overseas. Allyson's impressive discography culminated last year with the release of Some of that Sunshine, her first collection of all-original songs. The record unleashes her dexterity as a songwriter and includes tracks that touch on social change and romantic disillusion while maintaining a joyous, bittersweet optimism. With fifteen albums released so far, and always more exciting projects in the works, Allyson's range and creativity seems to have no bounds. What unites this wide world of music is Allyson's warmth and depth. She's not just singing a lyric, she's telling you her story. And then that becomes your story. You hear the music from the inside out.