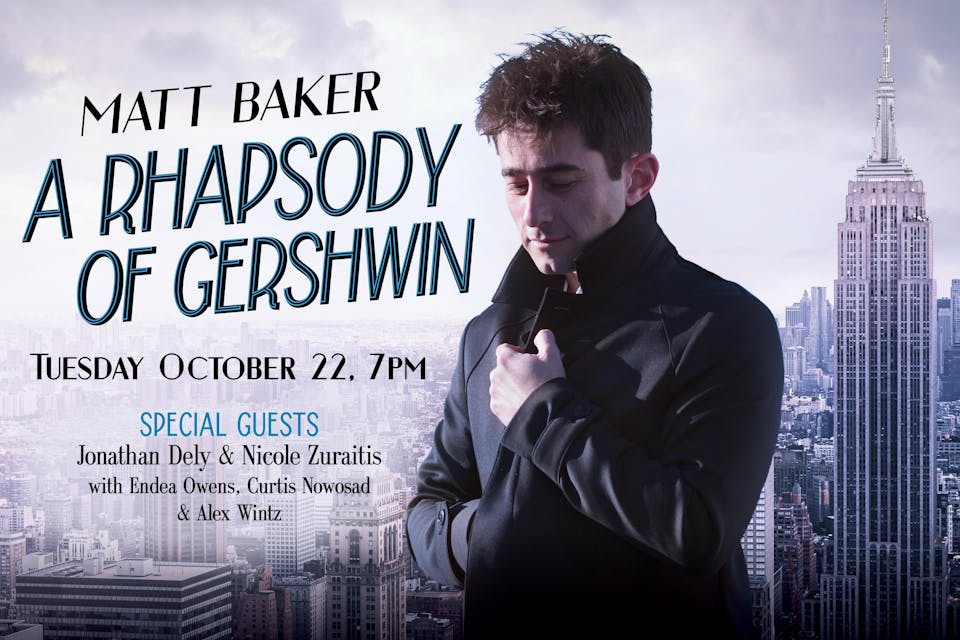 Seating is first come first serve for Table AND Bar
Matt Baker
Birdland Theater
$20.00 - $30.00
Tickets At The Door
Birdland Theater is proud to announce that jazz pianist Matt Baker will return to the stage with an evening of George Gershwin!
Matt Baker - A Rhapsody of Gershwin
Jazz pianist Matt Baker and his Sextet will be taking the Birdland Theatre stage with a return performance of his BRAND NEW project - A Rhapsody of Gershwin. Presenting a whole new spin on the music one of America's most celebrated composers, with an all-star lineup from the heart of New Yorks jazz scene. This is Gershwin, like you've never heard it.
The show brings Gershwin's Rhapsody in Blue to the jazz stage, also comprising music from Crazy for You, Porgy and Bess, An American in Paris, Concerto in F, plus other exciting gems from the classical and popular worlds of George Gershwin! Joining Matt will be Endea Owens on double bass, Curtis Nowosad on drums, Alex Wintz on guitar, plus special guests Jonathan Dely on trumpet and Grammy® nominated vocalist Nicole Zuraitis.
Matt Baker - Piano
Endea Owens - double bass
Curtis Nowosad - drums
Alex Wintz – guitar
And special guests!
Jonathan Dely – trumpet
Nicole Zuraitis – voice
Tickets on sale now!
……
Matt Baker's sideman credits include touring and performing with vocalists Ann Hampton Callaway, Jennifer Holliday, Patti LaBelle, Veronica Swift (2015 Monk competition winner), Tierney Sutton, Stephanie Nakasian, Arianna Neikrug (2015 Sarah Vaughan competition winner) and Judy Collins, as well as guitar icon Bucky Pizzarelli, tenor saxophonist Joel Frahm.
Matt Baker was an award winner in the 2003 Montreux International Solo Jazz Piano competition and a semi-finalist in 2004 and 2005. Originally from Australia, Matt has called New York City home since 2010, performs at jazz venues throughout the city and abroad and in 2017 released his latest DVD album "Live at Birdland".
Performances, Store and more info: www.mattbaker.com.au
Matt Baker
Tuesday, October 22 at 7pm
Birdland Theater, 315 West 44 Street, NYC
$30 cover, $10 food/drink minimum
www.BirdlandJazz.com or 212-581-3080