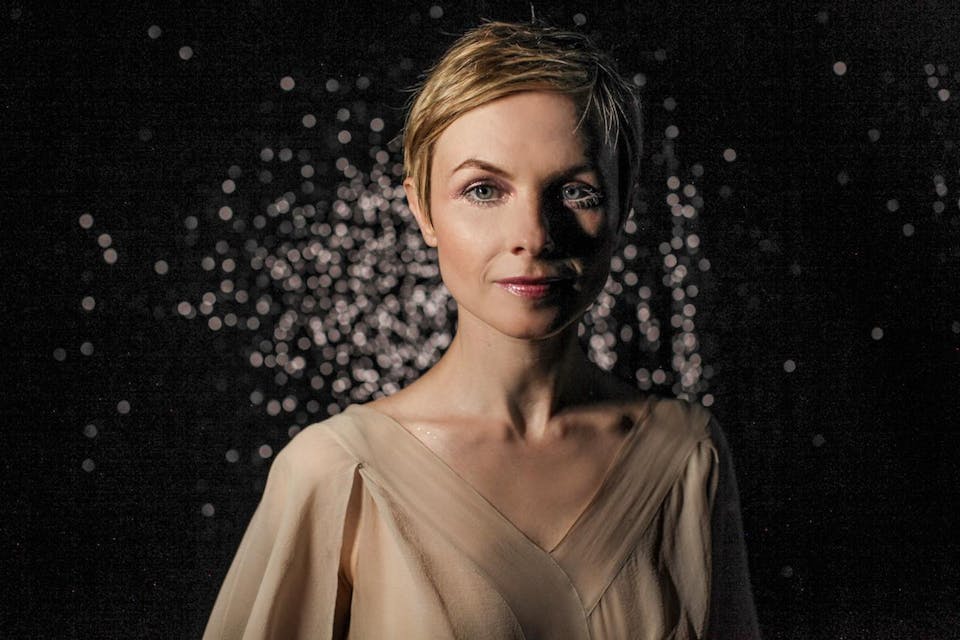 Kat Edmonson "Dreamers Do" Album Celebration
Birdland Theater
Join us at the Birdland Theater for the Kat Edmonson "Dreamers Do" Album Celebration!
Critically acclaimed vocalist and songwriter Kat Edmonson has played major stages across the United States, Europe and Japan, appeared in major motion pictures, performed on radio and television, and released four albums to date. Her fifth record, Dreamers Do (out February 2020) illustrates our common human struggle around daring to dream and takes us through the emotional and psychological experiences of doing so, all in the course of one sleepless night! The album is a mix of Edmonson's original songs and standards (many of them, Disney songs from the 1950s) arranged in the style of jazz, world music, and chamber-pop. Influences drawn include music from Africa, Brazil, China, India, Mexico, Europe, and early to mid-century America.
In 2018, Edmonson self-released her cinematically-inspired, fourth album, Old Fashioned Gal to warm critical acclaim. The Associated Press described Edmonson's latest effort, "like an alternate soundtrack to an Audrey Hepburn film, 11 self-penned songs of gentle romance and vulnerability in a decades-old style sparkling with modern sensibilities...and then there's her voice. Part bashful debutante, part starry-eyed fiancee, part world-wise seductress, it possesses a singular expressiveness." The album peaked at #3 on the Billboard jazz charts, #1 on iTunes jazz and #1 on Amazon jazz charts. The self-described vintage-pop artist appeared as the jazz singer in Woody Allen's film set in the 1930s, Café Society (2016) and is highlighted on the official soundtrack performing her version of "Mountain Greenery."
Edmonson's third record The Big Picture debuted at #1 on the Billboard Heatseekers Albums Chart, #1 on Contemporary Jazz Chart and #2 on the Total Jazz Chart. While promoting the album in 2015, she performed on "CBS This Morning: Saturday," garnering the program's highest rated viewership since 2006. Edmonson also shared the stage of CBS's Ed Sullivan Theater later that year with nine-time Grammy award-winners Ray Benson & Asleep at the Wheel on the "Late Show with David Letterman" during the program's final weeks. The Big Picture was recorded with Grammy-nominated producer Mitchell Froom in his Los Angeles studio. The album followed Edmonson's 2012 release, Way Down Low, which The New York Times hailed as "fresh as a spring bouquet" and The Boston Globe's reviewer called "one of the greatest vocal albums I've ever heard."
The idea to make Way Down Low came about when Edmonson was invited by the METAlliance (an organization of today's leading music producers and engineers) to record for two days at Avatar Studios with legendary industry figures Al Schmitt and Phil Ramone. Following their session, Kat initiated a Kickstarter campaign that raised over $50,000 through her fan-base to complete the record at Hollywood's Capitol Studios. Debuting at #1 on the Billboard Heatseekers Albums Chart, Way Down Low features a duet with fellow-Texan Lyle Lovett of Kat's original song, "Long Way Home." The album was featured on several major year-end "Best of 2012" lists including Downbeat Magazine, WNYC Soundcheck's "Best Live Performances" and Daytrotter's "Best Sessions of 2012."
Edmonson was featured on NPR an impressive five times that same year and performed on an episode of the nationally syndicated television show, "Austin City Limits". Soon after, Kat made her debut on the silver screen in the movie, Angels Sing (2013) starring Harry Connick, Jr, and in the spring of that year, Kat was a featured guest on "A Prairie Home Companion." She returned to "A Prairie Home Companion" in November 2014, reprising the character Cat Mandu that Garrison Keillor wrote for her for the show's regular skit, "Guy Noir, Private Eye."
Texas native Edmonson grew up in Houston and sang in the local club scene in Austin for several years before self-releasing her first album, Take To The Sky, in 2009. A musical kinship developed from performing with Lyle Lovett led to their high-profile duet of the Christmas classic "Baby, It's Cold Outside," which the pair recorded on his album Please Release Me and performed together in 2010 on "The Tonight Show with Jay Leno."
Along with her own headline tours, Edmonson has gone on the road in support of Lovett, as well as Chris Isaak, Gary Clark, Jr., Jaime Cullum, and Shawn Colvin, and has opened shows for such luminaries as Smokey Robinson, George Benson, Michael Kiwanuka, Nick Lowe, and Willie Nelson. Her song, "Lucky" has been featured in many feature films, television shows and commercials, including the Coca-Cola "Footprints" ad from the 2014 Winter Olympics. Edmonson lives in Brooklyn, New York.