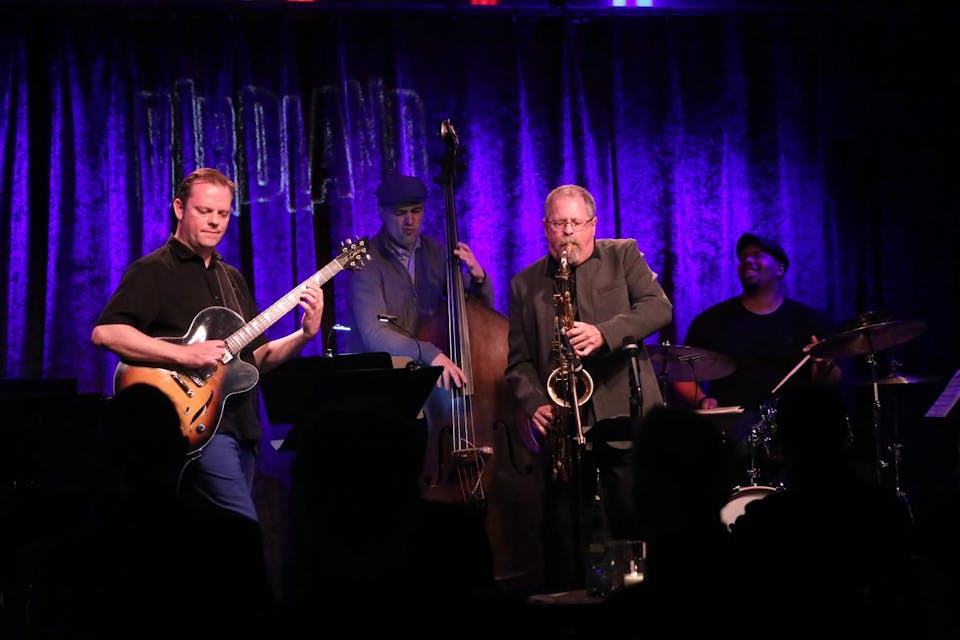 Jed Levy
Jason Brown
Peter Slavlov
Phil Robson
Birdland Theater
$20.00 - $30.00
Tickets At The Door
The Birdland Theater is proud to welcome back The Jed Levy Quartet!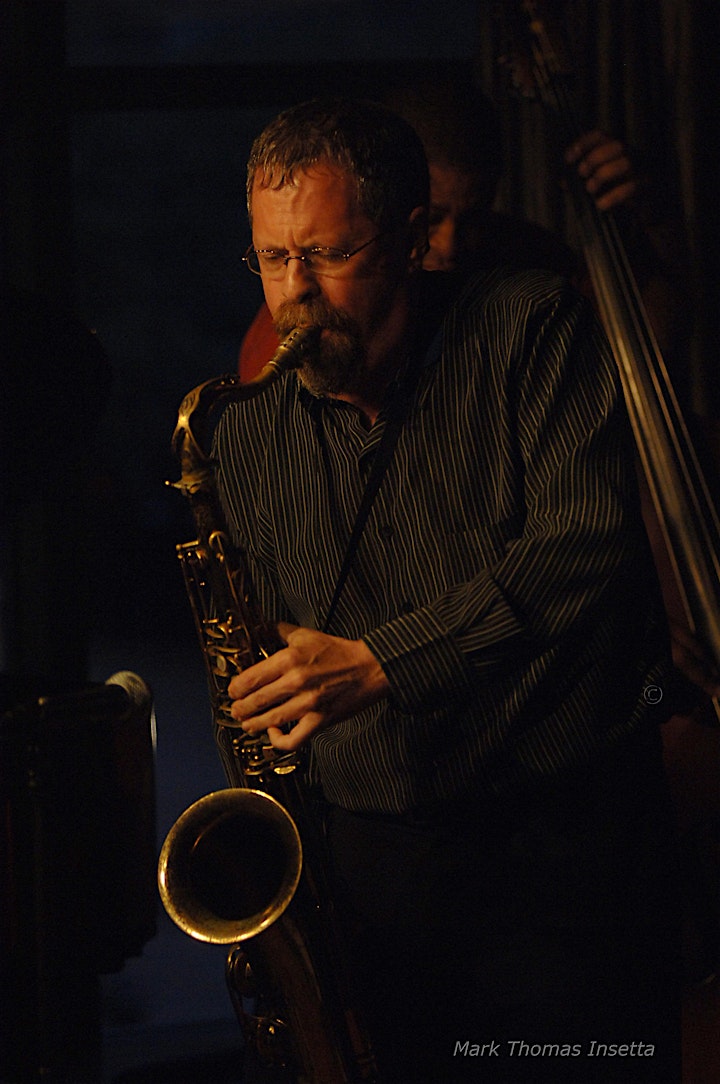 Saxophonist Jed Levy brings a new quartet to the new Birdland Theater, featuring guitarist Phil Robson, drummer Jason Brown and bassist Peter Slavov. This new ensemble first assembled for a successful tour of Europe in November 2018 under Phil Robson's name, a tour on which Mr. Levy was given featured billing and contributed half of the original music to the group's repertoire. Culminating in a stellar performance that received critical acclaim at the London Jazz Festival, both men thought this musical association should continue. In the spirit of this collaboration and as the band has continued to perform together, Mr. Levy asked this group to play his Birdland Theater debut. The original music is innovative and contemporary whilst drawing on the vast tradition of jazz, across the whole spectrum of styles. The emphasis is on strong melodies and grooves and the tunes are vehicles for improvisation, allowing each musician to bring their experience and to make them their own.
Saxophonist Jed Levy is no stranger to New York City jazz audiences, or Birdland patrons either. For several years, he played every Sunday night at this famed venue with Afro-Latin jazz legend Chico O'Farrill. Mr. Levy has also performed and/or recorded with a wide and diverse variety of jazz music's finest, including: Jaki Byard, Don Patterson, Jack McDuff, Lonnie Smith, Mike Clark, Don Friedman, Attila Zollar, The Village Vanguard Orchestra, Junior Mance, Shirley Scott, Eddie Henderson, Gene Bertoncini, Cedar Walton, Tom Harrell, Curtis Fuller, Peter Leitch, Bill Mobley Jazz Orchestra, Groove Holmes, and Larry Ridley. In addition to performing as a leader at such New York venues as JALC Dizzy's Club and Mezzrow, his quartet was selected by Jazz at Lincoln Center to tour Central and South America for the U.S. Dept.of State in 2012. This same group played a 16-city concert tour of The People's Republic of China in 2015. This past year, Mr. Levy not only performed in the U.K. but toured as a leader in Italy, performing at festivals in Rome and Andria. Mr. Levy has recorded 10 CDs as a leader on the SteepleChase and Reservoir labels, which showcase mostly his original music. With well over 300 compositions to his name, Mr. Levy's music has also been recorded by The Headhunters, Ron McClure, Eddie Henderson, Don Friedman,Don Falzone, Peter Leitch, Mike Clark, Giuseppe Bassi, and Daniela D'Ercole.
Over the years Phil Robson has led or co-led many innovative ensembles, including award-winning Partisans or his fiery Organ Trio and many US/UK bands, feat. Dave Liebman, Mark Turner (Immeasurable Code Quintet), Billy Hart (trio w/James Genus) and more. As a side man he has worked with such artists as Barbra Streisand, Kenny Wheeler, Django Bates, Maceo Parker and many, many more. As a regular part of the NYC scene, Phil Robson has led bands featuring Donny McCaslin, James Genus, Adam Nussbaum, Dayna Stephens, Tom Rainey and many more. Regular member of Jeff Williams band featuring Duane Eubanks, John O Gallagher, he is also currently co-curating (with Christine Tobin) a series of themed jazz shows at the Irish Arts Center NYC called 'Tobin's Run on 51'.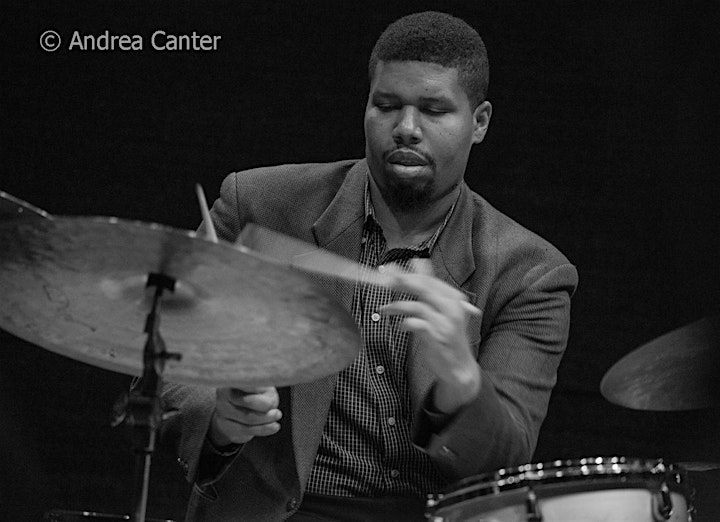 In demand drummer, Jason Brown, has been a driving force behind major artists since the early days of his career. A graduate of Oberlin Conservatory, Ohio; Brown learned his trade under the tutelage of Billy Hart.For seven years he toured and recorded with Grammy nominated vocalist & composer, Carmen Lundy; with Pat Martino he appeared at major festivals worldwide, such as Jarasum International Jazz Festival and Rochester Jazz Festival. He has also worked with renowned artists such as Lizz Wright, Cedar Walton, Nicholas Payton, Wayne Escoffery Kurt Rosenwinkel and Monte Alexander.Now a key member of Amina Figarova's Sextet, Jason Brown has performed at the Joy of Jazz Festival in Johannesburg and major venues throughout Europe and the USA. As a leader, Brown has been a featured artist with the Jazz Philharmonic Orchestra of St Petersburg on several occasions and taken his quintet, featuring saxophonist Steve Grossman, to the White Knight's Festival in Russia. He has also led his own bands at Smalls Jazz Club and various other venues in New York and throughout the USA, Russia and Ukrain
Peter Slavov is a New York-based Bulgarian double bassist, composer, session musician, arranger and educator. Born to the family of legendary Bulgarian drummer Peter Slavov Sr., Peter (sometimes credited as Petar) has been playing bass since the age of twelve. After graduating from Berklee in 2002, Peter Slavov has performed and/or recorded with world-renowned artists, including Quincy Jones, George Garzone, Danilo Perez, Chucho Valdes, Kevin Mahogany, Simon Shaheen and Elio Villafranca. Peter is currently touring the world with Grammy award-winning saxophonist Joe Lovano's Classic Quartet, and his Us Five band. In 2012, Us Five received the Award for Best Small Group by the Jazz Journalists Association of America. Peter Slavov is also featured on the most recent album by Joe Lovano and Us Five - "Cross Culture", which was released on the historic Blue Note label. Peter has performed with legendary producer/arranger/composer Quincy Jones' Global Gumbo Project. As part of the Alfredo Rodriguez Trio he was nominated for a Grammy in 2015 which Quincy Jones produced.