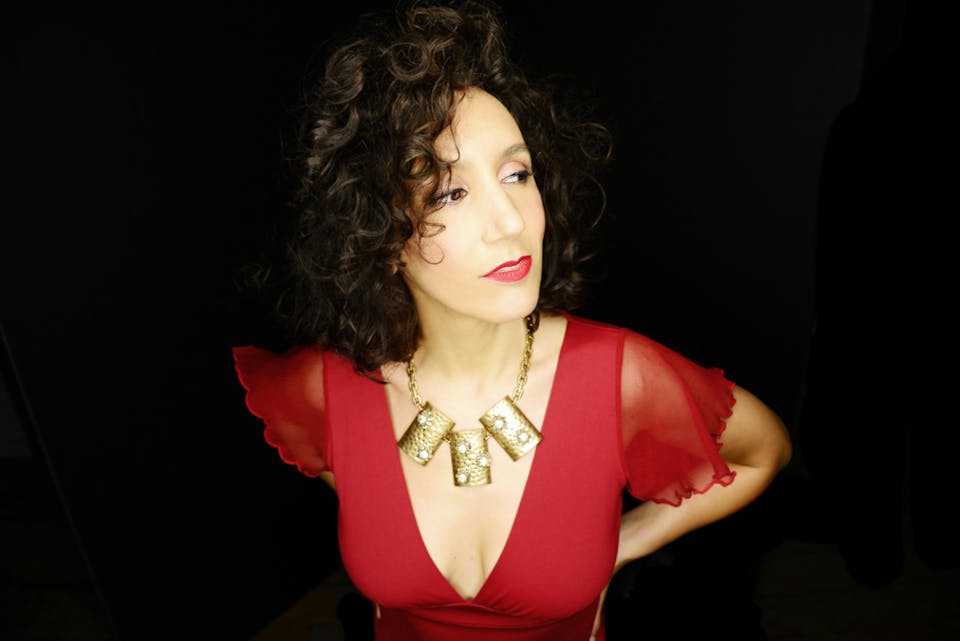 Seating is first come first serve for Table AND Bar
Gabrielle Stravelli
Birdland Theater
$20.00 - $30.00
Tickets At The Door
Join us at the Birdland Theater for the Gabrielle Stravelli Quintet!
Award-winning vocalist and songwriter Gabrielle Stravelli has garnered critical acclaim and a loyal following through her rich sound, original compositions and her unique take on material from the Great American Songbook as well as by contemporary artists as varied as Willie Nelson, Joni Mitchell, Stevie Wonder and John Fogerty. A trained actor, Gabrielle has a soulful sensitivity for the story in the lyric and was called "a powerhouse of individual expression" by David Finkle of The Village Voice.
On April 5th, Gabrielle released her fourth album, "Pick Up My Pieces: Gabrielle Stravelli Sings Willie Nelson" a far reaching exploration of Nelson's catalog, from his earliest works to his most recent creative efforts. She celebrated the album's release with a sold out concert at Birdland Jazz Club and the album has already received accolades from All About Jazz, FestivalPeak.com, the Midwest Record and more.
In January, Stravelli lead her quintet on a tour of Chile, headlining the Providencia Jazz Festival in Santiago, the Las Condes Jazz Festival, the 10th Annual Semana Internacional de Jazz en la Patagonia along with performances at Santiago's premier jazz clubs including The Jazz Corner and El Meson Nerudiano. Most recently, Gabrielle made her debut with the Jackson Symphony in Jackson, TN and the Fayetteville Symphony Orchestra in North Carolina. She toured Southeast Asia as a United States Department of State "Jazz Ambassador", headlined the 2018 WBGO Jazz on the Mountain Festival and released her third album, "Dream Ago" comprised primarily of original material co-written with bassist Pat O'Leary and lyricist Jason Robinson. The album received a five-star review from DownBeat Magazine and garnered raves from the Huffington Post, Scott Yanow of LA Jazz Scene and Tony Frankel of LA's Stage and Cinema among others. Gabrielle and her trio toured the album in major venues in New Jersey, Lancaster, Pittsburgh, Philadelphia, Detroit, Columbus, Cincinnati, Cleveland, Three Oaks, MI, Akron, Austin, Los Angeles, San Francisco, Las Vegas, and the greater Washington DC-area in addition to touring in Italy and Norway.
In 2017 Gabrielle was invited to be a master teacher for YoungArts (a national organization that organizes week-long intensives for artists 14-18 years old and connects them with professionals currently working in their chosen field). She has taught extensively for the Kaufman Center's Lucy Moses Special Music School and the United States Department of State as a Jazz Ambassador. In April 2017 she was invited by the US Embassy in Azerbaijan to perform at a gala celebrating 25 years of diplomatic relations between the US and Azerbaijan and in August she lead a quintet on a 10-day tour of Pakistan, celebrating the country's 70 years of independence with concerts, collaborations with local artists and workshops with students and performers.
Stravelli's group headlined the 2016 Eleuthera "All That Jazz Festival" in Eleuthera, Bahamas and in November 2015 headlined an international tour sponsored by the US State Department's American Music Abroad program. Out of hundreds of applicants, the Gabrielle Stravelli Ensemble was one of just 10 bands sent around the world to foster cultural diplomacy through music. The tour took her to Moldova, Azerbaijan, Slovenia and Malta, where her quartet taught workshops and masterclasses during the day and performed concerts at night. In the fall of 2015 she premiered a new song cycle, Rooms of Light, written by world-renowned jazz pianist, Fred Hersch with lyrics by award-winning poet Mary Jo Salter. That project was proceeded by a run of solo shows at Feinstein's/54 Below which won her her second rave review from the New York Times.