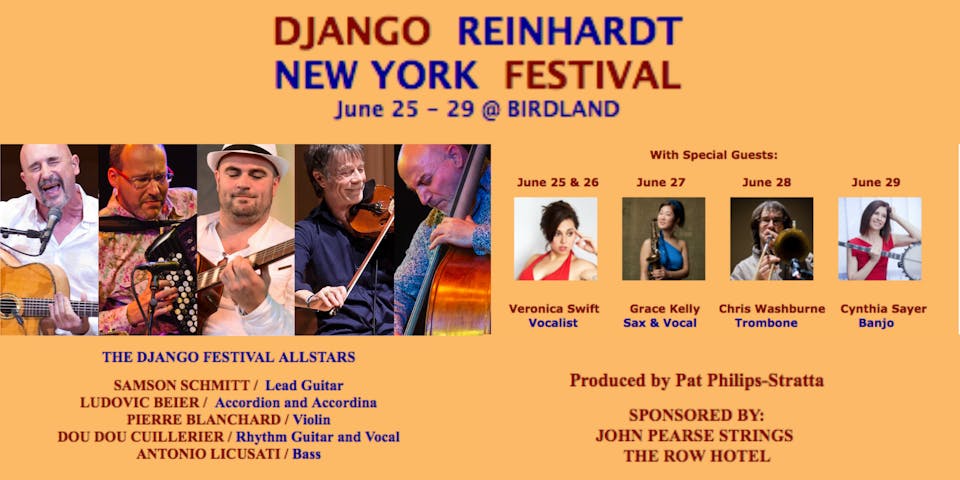 Django Reinhardt Festival: Samson Schmitt, Pierre Blanchard and more!
Birdland Jazz Club
$40.00 - $50.00
Tickets At The Door
It's the Django Reinhardt Festival! With Samson Schmitt, Pierre Blanchard and Ludovic Beier, Doudou Cuilleri and Antonio Licusati
Gypsy legends Return to Birdland with Django Festival Allstars Feat. Samson Schmitt, Ludovic Beier, Pierre Blanchard, Doudou Cuillerier, and Antonia Licusatio
The Django Festival Allstars
The Django Festival Allstars bring the music of the legendary Gypsy Jazz Guitarist Django Reinhardt fully into the 21st century. Their unique, high energy performances pay tribute to Reinhardt who is considered one of the greatest guitar players of all time. Reinhardt's driving, swinging style became known as 'hot jazz' and it continues to grow in popularity throughout the world…in great part to the success of the Django Festival Allstars who honor the traditions of "gypsy jazz" adding their own interpretations, arrangements and original compositions with stunning virtuosity!
This internationally renowned group prominently features one of Europe's greatest musical families- on this event critically acclaimedLEAD GUITARIST ,SAMSON SCHMITT, son of legend Dorado Schmitt . . The band also features virtuoso violinist Pierre Blanchard and accordionist extraordinaire Ludovic Beier. Rounding out the band is DouDou Cuillerier who also brings the audience to its feet with his scat singing and Italian bassist Antonio Licusati.
"Some of the greatest musicians in he world " ! Leonardo DiCaprio
'Sensaional" ...George Benson
BIRDLAND: 315 w. 44TH Street (Bet. 8TH and 9th avenues)
Reservations: 212 581-3080 or www. Birdlandjazz.com
Full Dinner Menu and Parking nearby.