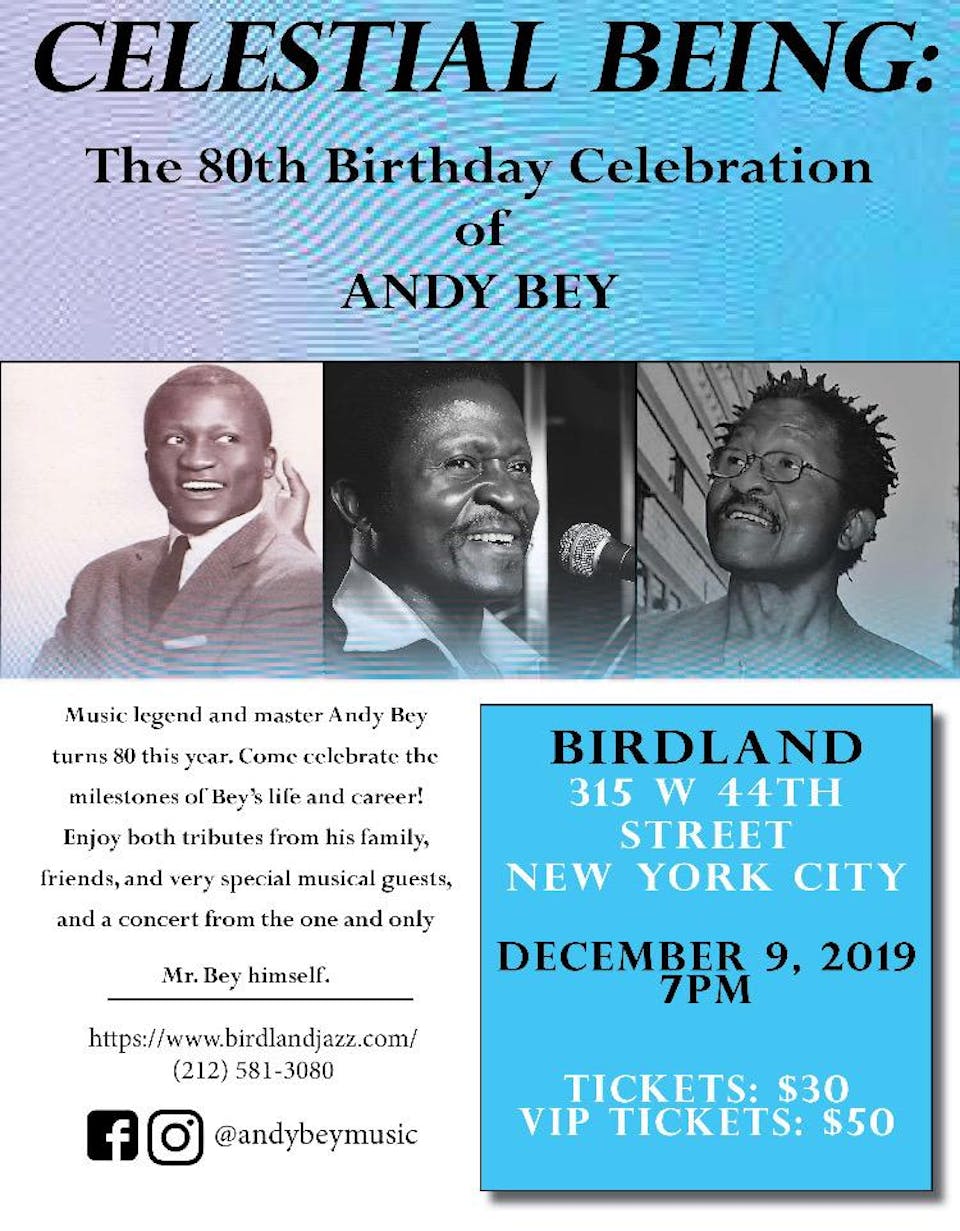 Andy Bey
Birdland Jazz Club
$30.00 - $50.00
Tickets At The Door
The Broadway at Birdland series is proud to announce "Celestial Being," 80th Birthday Celebration concert celebrating jazz legend Andy Bey!
Celestial Being:
The 80th Birthday Concert
Celebrating
Andy Bey
Monday, December 9 at 7pm
The Broadway at Birdland concert series is proud to announce "Celestial Being," the 80th Birthday Celebration concert celebrating jazz legend Andy Bey. The one-night-only event will take place on Monday, December 9 at 7pm.
Music legend and master Andy Bey turns 80 this year. This concert will include musical tributes from his family, friends and very special guests…as well as a performace from the one and only Mr. Bey himself!
Pianist and vocalist Andy Bey has earned much critical praise for the subtle vocal stylings he creates within his four-octave voice and his deftly understated piano playing.
A prodigiously talented child, he had learned to play boogie-woogie piano tunes by the age of three, entertaining his eight siblings. In 1952, at age 12, he performed with Louis Jordan at the Apollo Theater in Harlem, and as a teenager he appeared regularly on television programs such as Star Times Kids and Spotlight on Harlem, often performing opposite legendary jazz figures including Sarah Vaughan and Dinah Washington.
When Mr. Bey was 18 years old, he left the Arts High School in Newark, New Jersey in the middle of his senior year, and with his sisters, Geraldine and Salome, formed the trio Andy and the Bey Sisters. The group joined the vibrant Miami music scene, playing in Cotton Club-style revues, and also appeared in Tampa. Andy and the Bey Sisters established a unique approach to ensemble singing that was, in the oft-quoted words of Duke Ellington, "beyond category." Churchier than Lambert, Hendricks & Ross, jazzier than the Staple Singers, Andy Bey and his sisters drew upon jazz, blues, gospel, R & B, Broadway, and pop. When they returned to New York City several months later, the trio auditioned for club dates in Europe, and won an opportunity to tour Spain and England. A tour of a few weeks turned into a two-year whirlwind of shows that lasted from September 1958 until January 1960. Andy and the Bey Sisters played major clubs in Europe, but spent most of their time in France, at both the Blue Angel in Versailles and the Blue Note in Paris where they were the featured act. The trio made three recordings, Andy and the Bey Sisters (RCA 1961), Now! Hear! (Prestige, 1964), and 'Round Midnight (Prestige, 1965). "We were a class act," says Mr. Bey, and his statement is borne out in the archival footage showing them in Let's Get Lost (1989), a documentary Bruce Weber directed about Chet Baker. In the film, the trio is shown performing at a party given by film director Roger Vadim, an example of a late 1950's Parisian fête. Jazz aficionado and entrepreneur George Wein heard Andy and the Bey Sisters in 1960 and arranged for them to return to the U.S. to perform at festivals and clubs.
After ten years together, the trio disbanded in May 1966. Mr. Bey then spent some time recording with Gary Bartz (Harlem Bush Music: Uhru, Taifa, Juju Street Songs) and Horace Silver (That Healin' Feelin', Total Response, All), their seminal 1970s recordings. Mr. Bey continued to perform during the 1970s and the beginning of the 1980s as a featured vocalist with Horace Silver, and he played clubs from Japan to Brazil with such artists as Max Roach, McCoy Tyner, Lonnie Liston Smith, Rahsaan Roland Kirk, Duke Pearson, Deirdre Murray, Thad Jones/Mel Lewis, Frank Foster, and Eddie Harris. During the 1980s and early 1990s he also appeared in musical theater, notably as the voice of God in the off-Broadway production Holy Moses and in Cecil Taylor and Deirdre Murray's music/theater piece, Unending Pain. In 1991 Mr. Bey was asked to give vocal instruction in Graz, Austria, and he taught there until 1993. After more than two decades without recording as a leader, he returned to the U.S. in 1994 to do Ballads, Blues and Bey (1996), and Shades of Bey (1998), both on the Evidence Music label. In January 1999, Koch Jazz re-released Experience and Judgement, the last recording he had made as a leader (Atlantic, 1974). Mr. Bey's latest recording, American Song (Savoy Jazz, April 2004) won the 64-year cultural phenomenon a citation as 2004 Jazz Journalist Association's Male Jazz Singer of the Year. The record features an ensemble of contemporary masters including pianist Geri Allen who also contributes arrangements, Frank Wess and Dwight Andrews on saxophones and flute, and Paul Meyer on guitar.
Andy Bey appeared with the Billy Taylor Trio at the Washington Pavilion in Sioux Falls, South Dakota, on April 29, 2000, in a program recorded live for future broadcast as part of the on-the-road segments of the NPR show Billy Taylor's Jazz at the Kennedy Center. Mr. Bey then came to the Kennedy Center Terrace Theater with his trio (Andy Bey, piano & vocals; Joe Martin, bass, and Victor Lewis, drums) on November 17, 2000.
Celestial Being: The 80th Birthday Concert Celebrating Andy Bey
Monday, December 9 at 7pm
Birdland, 315 West 44 Street, NYC
$30 cover, $50 VIP cover, $10 food/drink minimum
www.BirdlandJazz.com or 212-581-3080