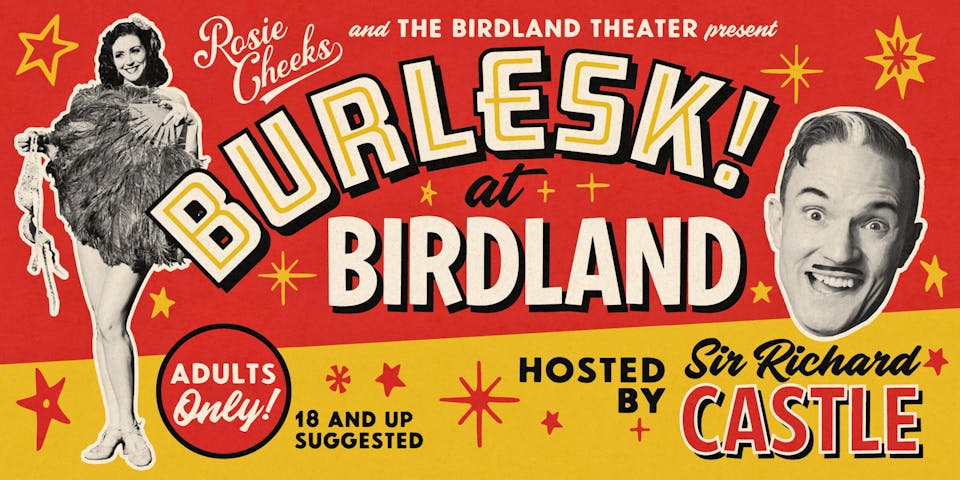 Doors open at 9pm - Seating is first come first serve.
BURLESK! at BIRDLAND Hosted by Sir Richard Castle
Birdland Theater
$20.00 - $30.00
Tickets At The Door
Rosie Cheeks and the Birdland Theater are proud to present BURLESK! at BIRDLAND hosted by Sir Richard Castle!
Half a block from Broadway, BURLESK! at BIRDLAND marks the return of classic burlesque to its midtown Manhattan, Times Square roots. Nestled in the legendary jazz club's new theater, this funny, sexy gem of a show unveils a luscious line-up of sparkling strip-teasers, each a singular, sensual delight.
Overseeing the frolics is the dashingly debonair and deliciously dirty dandy SIR RICHARD CASTLE. He's graced burlesque stages from Stockholm to Detroit, and is enjoying the 10th year of his long-running burlesque comedy show, THE WIGGLE ROOM WITH SIR RICHARD CASTLE at NYC's "Palace of Variety," The Slipper Room.
The show's ravishing roster is curated by ROSIE CHEEKS, "The Blushing Beauty of Burlesque." Rosie's a fixture in the NYC scene, has toured nationally, and is currently one of the five featured burlesque performers in THE BURLESQUE SHOW at The Borgata Casino in Atlantic City.
Don't miss this titillating evening of "Bird-lesk!"
BURLESK! at BIRDLAND is a co-production of Rosie Cheeks and Birdland Jazz Club.