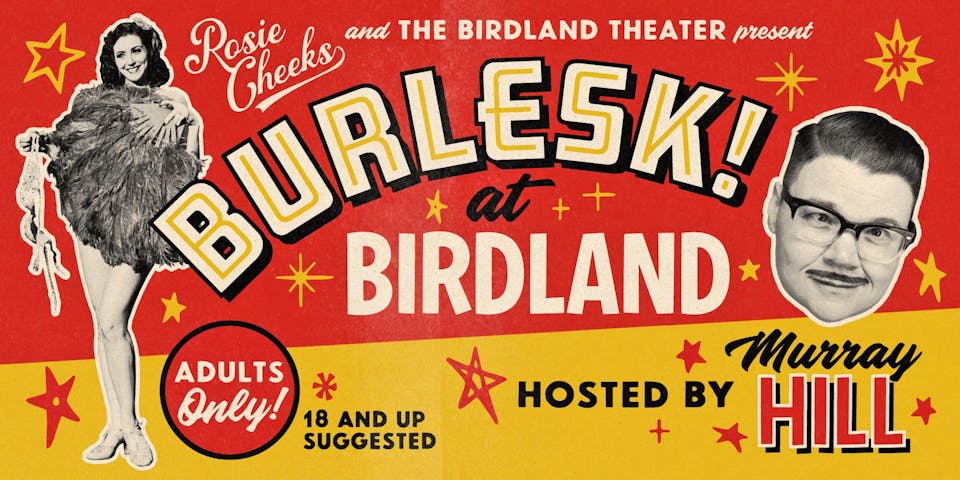 Doors open at 9pm - Seating is first come first serve.
BURLESK! at BIRDLAND Hosted by Murray Hill
Birdland Theater
$20.00 - $30.00
For reservations call 212-581-3080.
Rosie Cheeks and the Birdland Theater are proud to present BURLESK! at BIRDLAND hosted by Murray Hill!
BURLESK! at BIRDLAND, Hosted by Murray Hill
BURLESK! at BIRDLAND marks the return of classic burlesque to its midtown Manhattan, Times Square roots. Each week, B!@B features a luscious line-up of seasoned, sparkling strip-teasers, each a singular, sensual delight.
Overseeing the frolics is the legendary "Mr. Showbiz" himself, MURRAY HILL. A relentless shtick-slinger, Murray's resumé runneth over: heralded by the New York Times as the "ultimate, consummate nightclub perfomer," he's been Burly-Q diva Dita Von Teese's chosen host for ten years running, and has headlined on stages the world over, and even down-under.
The show's ravishing roster is curated by ROSIE CHEEKS, "The Blushing Beauty of Burlesque." Trained at The New York School of Burlesque, Rosie is a fixture in the NYC scene, has toured nationally, and is a weekly featured performer in THE BURLESQUE SHOW at The Borgata Casino in Atlantic City.
Don't miss this titillating evening of "Bird-lesque"!
BURLESK! at BIRDLAND a co-production of Rosie Cheeks and Birdland Jazz Club.
18 AND OVER SUGGESTED