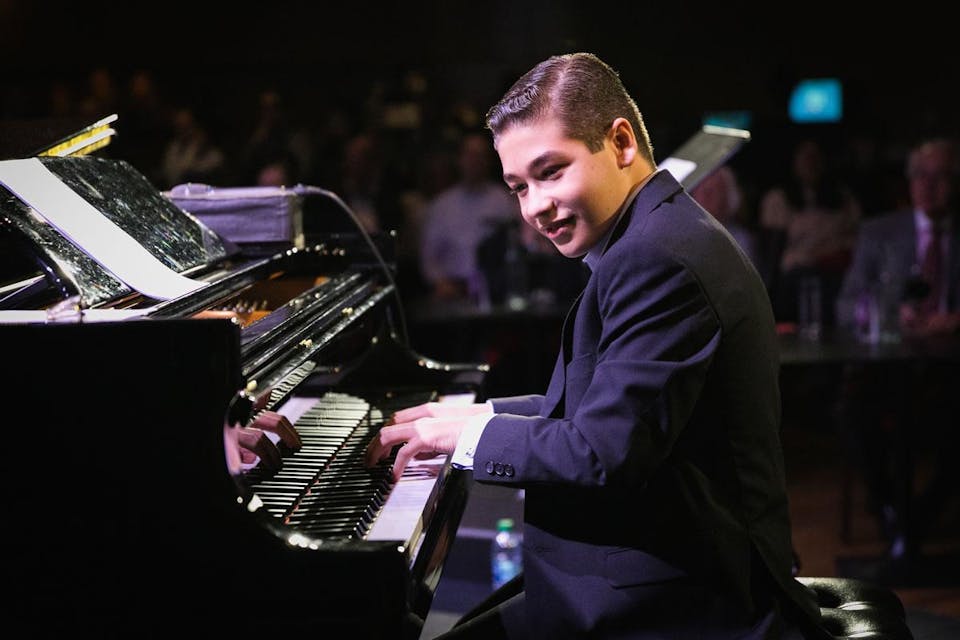 Brandon Goldberg Trio
Birdland Theater
$20.00 - $30.00
Tickets At The Door
The Birdland Theater is proud to present: The Brandon Goldberg Trio!
Brandon Goldberg, now thirteen years old, began to play piano by ear when he was three years old. He started with classical lessons at age five, but quickly found his passion for jazz and learned about the music and its history by listening to his favorite artists including Herbie Hancock, Bill Evans, Oscar Peterson, Charlie Parker, Miles Davis, and John Coltrane, just to name a few.
Brandon continued his jazz studies at the University of Miami and Litchfield Jazz Camp and Festival, where he worked with renowned jazz musicians including Avery Sharpe, Matt Wilson, Orrin Evans and Paul Bollenback. Brandon's debut album, "LET'S PLAY!" (available April 12, 2019) features veteran musicians Ben Wolfe on bass, Donald Edwards on drums and special guest Marcus Strickland on tenor saxophone. "LET'S PLAY!", with three originals compositions and six standards, is inspired by pianists Brandon considers his heroes - Thelonious Monk, McCoy Tyner and Herbie Hancock - and is imbued with pure love and joy for the tradition of jazz music.
Brandon has appeared on the Harry Connick Jr. Show, NBC's Little Big Shots and the Steve Harvey Show. He has performed at Carnegie Hall, Dizzy's Club, Rose Hall at Jazz at Lincoln Center with Monty Alexander, Litchfield Jazz Festival, Bravo Niagara Festival of the Arts, The Apollo Theater, Blue Note Jazz Club in New York, WDNA Miami Downtown Jazz Festival, with The Miami Symphony Orchestra and the Mancini Institute Orchestra.
Brandon was named Downbeat Magazine's 2018 Student Music Awards winner for Jazz Soloist and Outstanding Original Composition. He's also performed at TEDxYouth@Miami, TEDxBocaRaton and TEDxCoconutGrove.
Brandon works closely with the Jazz Foundation of America (JFA) and performed at the JFA annual Gala - A Great Night in Harlem at the famous Apollo Theater in New York, where he presented McCoy Tyner with his Lifetime Achievement Award in 2016. Brandon also performed at the JFA's fundraiser hosted by Quincy Jones and Alan Bergman in Los Angeles.
Through his love for music, Brandon has helped raise funds and awareness for various charitable organizations including Jazz Foundation of America, Israel Bonds, Jack Nicklaus Children's Hospital, Debbie's Dream Foundation: Curing Stomach Cancer and City of Hope.
"The diminutive Goldberg then took his place behind the piano—but not before adjusting the height of the bench—to perform a composition with the sensitivity and poignancy of a musician three times his age." – Brian Zimmerman, Downbeat Magazine, Nov. 14, 2016