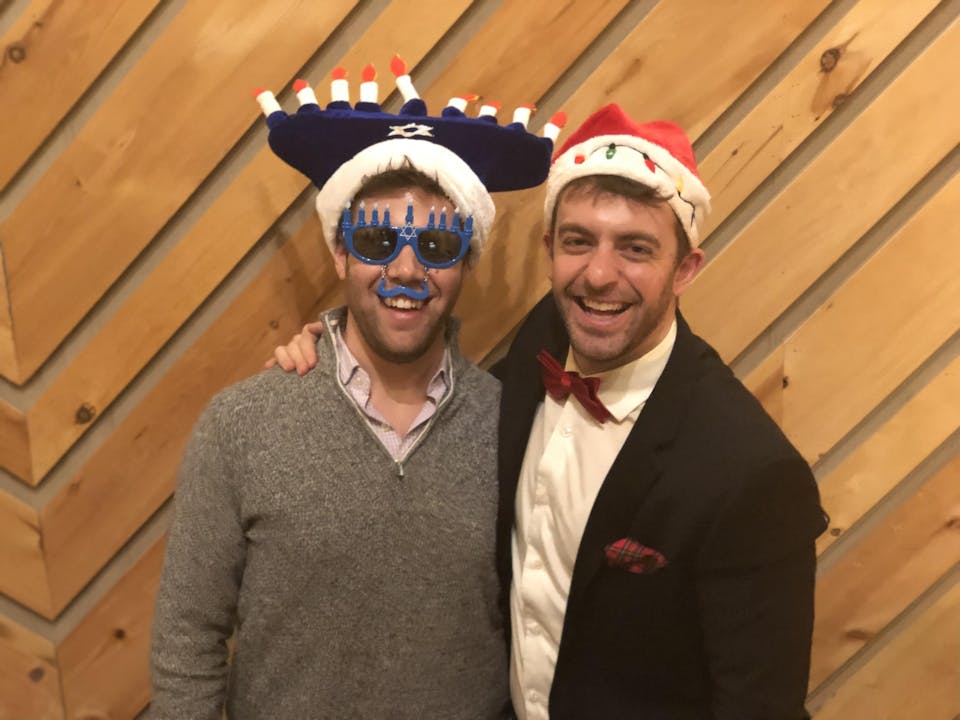 Benny Benack III
Steven Feifke Big Band
Birdland Jazz Club
$30.00
Tickets At The Door
Join Birdland favorites Benny Benack III & Steven Feifke as they celebrate the release of their Holiday EP!
Join Birdland favorites Benny Benack III & Steven Feifke as they celebrate the release of their Holiday EP with some brand new, soon-to-be seasonal classics, celebrating Christmas, Hanukkah, New Years Eve, and more. Featuring full big band orchestrations by Feifke, this is sure to be one swingin' night to ring in the holiday season!
Steven Feifke, born June 21st 1991, is an American pianist, composer, and orchestrator. An avid and lifelong academic, Feifke's writing spans many genres and mediums. In 2014, he was commissioned by the 23Arts Initiative to write an arrangement of George Gershwin's 1924 "Rhapsody In Blue" for jazz big band and concert pianist soloist. His big band music has recently been featured by the Malmo Band in Switzerland, and soon his orchestral music will be debuted in August 2019 Next Generation festival in Florence, Italy. Feifke has also written original works for television and film media, and his music can be heard on the hit Netflix TV show "Comedians in Cars Getting Coffee," produced by comedian Jerry Seinfeld.
Feifke has been featured as a pianist on a number of records including "Falling Forward" by Ulysses Owens Jr, "Onward" by Chad Lefkowitz-Brown, and "First Things First" by Andrew Gould. His compositions and arrangements are regularly performed by a number of ensembles around the United States, and his original works will soon be heard on his large-ensemble follow up to his first solo album, "Peace In Time" (2015).
Feifke leads several of his own projects of various sizes: a jazz orchestra, a septet, a trio, and a five piece ensemble called "The Songs of Winter Band." He also co-leads an art music project with vocalist Martina DaSilva, called "With Strings." Feifke has been named a semifinalist in the Thelonious Monk International Piano Competition (2011 and 2018), and has performed internationally since 2011. He lives in New York City where he writes out of his home studio, and when he is not touring he can frequently be heard performing at local venues like Smalls Jazz Club, The Django, Mezzrow, the Blue Note, and Dizzy's Club at Jazz at Lincoln Center.
In 2018, Feifke was the recipient of the Arts Mid-Hudson "Pro's Meet Pupil's" grant for his curriculum designed to teach students jazz history through performance. This grant is a part of an ongoing collaboration with The Catskills Jazz Factory. In addition to his grant work, Feifke has also been solo artist in residence at Northern Illionois University, and given masterclasses at Williams College in Western MA, and the Yale Undergraduate Jazz Collective in New Haven, CT.
Feifke holds a BM in Jazz Studies and a minor in Economics from New York University (2013) and a MM in Jazz Composition from Manhattan School of Music in Jazz Composition (2018). During his time in school, Feifke studied with and learned from two luminaries of composition and orchestration: Gil Goldstein and Jim McNeely.